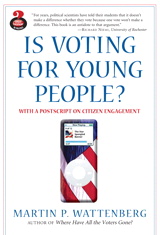 Description
The update to this brief, accessible, and provocative book continues to explore the reasons why the young are less and less likely to follow politics and vote in the United States, as well as in many other established democracies. The book suggests ways of changing that, and now includes a postscript on new forms of citizen engagement to show how students can and are joining in other forms of political participation such as protesting, volunteering, blogging, and boycotting.
Table of Contents
Chapter 1: The Aging of Regular Newspaper Readers
Chapter 2: The Aging Audience for Politics on TV
Chapter 3: Don't Ask Anyone Under 30
Chapter 4: Where Have All the Young Voters Gone?
Chapter 5: Do Young Adults See Voting as a Civic Duty?
Chapter 6: Does Low Youth Turnout Really Matter?
Chapter 7: What Can Be Done?
Postscript: New Forms of Citizen Engagement