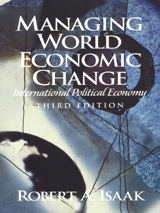 Table of Contents
I. CONCEPTS FOR MANAGING CHANGE.
Introduction.
1. Theories.
II. THE GLOBAL ENVIRONMENT.
2. The World Monetary System.
3. The World Trade System.
4. Multinational Corporations.
5. The North-South System.
6. Multinational Strategy, Direct Investment, and Technology.
III. DOMESTIC SOURCES OF NATIONAL ECONOMIC BEHAVIOR.
7. Life Chances, Class, Education, and Culture.
8. State Strategies and Stages of Development.
9. Industrial Policy, "Economic Miracles," and the Environment.
10. Post-Socialist Transitions.
IV. CYCLES, TRENDS, CONCLUSIONS.
11. Business Cycles and Capital Flows.
12. Globalization and Resistance.
Glossary.
Selected Bibliography.
Index.