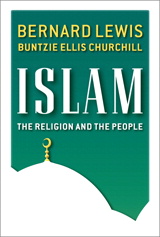 Description
For most Westerners, Islam remains a mystery. In this brief, exceptionally readable book, Bernard Lewis reveals Islam to the rest of us: what its adherents believe, how their faith has shaped them, and the rich and diverse cultures and politics they have created over nearly 1,400 years. Lewis is the world's leading expert on Islam: his views have influenced world leaders for decades. Now, he's written the definitive introduction to Islam for the rest of us. Islam is indispensable reading for everyone who wants to understand the faith, culture, and peoples of Islam and respond effectively to the global challenges that involve Islam, from terror to oil. Drawing on a lifetime of scholarship, Lewis answers questions like: What are the pillars of the Islamic faith? What does Islam really say about jihad? About the differences between men and women? About tolerance and the rights of non-Moslems? What are the differences between Sunni and Shi'a? Can there be Islamic democracies? What does the Prophet say about free enterprise and profit? What really caused the rise of radical Islam? How can Moslems live their faith in societies that are largely non-Moslem, such as Europe and the U.S.? Whatever your political, personal, or religious views, you need to get past the common myths about Islam, and understand its reality. In that quest, there's no better guide than Bernard Lewis, and there's no better book than Islam.
Table of Contents
Preface xv
Introduction 1
Chapter 1 The Faith and the Faithful 7
Chapter 2 The Pillars of the Faith 13
Chapter 3 Scripture, Tradition and Law 25
Chapter 4 The Mosque 39
Chapter 5 Diversity and Tolerance 51
Chapter 6 Sunni, Shi'a and Others 61
Chapter 7 Some History 71
Chapter 8 Government and Opposition 81
Chapter 9 Wider World of Islam 91
Chapter 10 Islam and the Economy 97
Chapter 11 Women in Islam 111
Chapter 12 Dress 127
Chapter 13 Language and Writing 137
Chapter 14 War and Peace 145
Chapter 15 Radical Islam 155
Conclusion 165
Appendix: Some Practical Matters 169
Terms and Topics 179
Index 225
Purchase Info ?
With CourseSmart eTextbooks and eResources, you save up to 60% off the price of new print textbooks, and can switch between studying online or offline to suit your needs.
Once you have purchased your eTextbooks and added them to your CourseSmart bookshelf, you can access them anytime, anywhere.
Buy Access
Islam: The Religion and the People, CourseSmart eTextbook
Format: Safari Book
$10.99 | ISBN-13: 978-0-13-216117-6