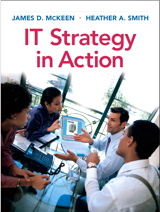 Description
For undergraduate and graduate courses in IT Strategy or IT Management.
This book teaches students how to use and manage IT to deliver business value, with a focus on IT management issues, rather than technical issues.
Table of Contents
Table of Contents
Section I: Delivering Value with IT
1. Developing and Delivering on the IT Value Proposition
2. Developing IT Strategy for Business Value
3. Linking IT to Business Metrics
4. Managing Perceptions of IT
Mini-cases:
· IT Leadership at MaxTrade
· Investing in TUFS
· IT Planning at ModMeters
Section II: IT Governance
5. IT in the New World of Corporate Governance Reforms
6. Creating and Evolving a Technology Roadmap
7. The IT Budgeting Process
8. Information Management: The Nexus of Business and IT
9. IT in 2010
Mini-cases:
· Shared Services at RR Communications
· Creating a Process-Driven Organization at AgCredit
Section III: IT-Enabled Innovation
10. Strategic Experimentation with IT
11. Enhancing the Customer Experience with Technology
12. Information Delivery: IT's Evolving Role
13. Digital Dashboards
14. Managing Electronic Communications
Mini-cases:
· Information Management at Homestyle Hotels
· Knowledge Management at Acme Consulting
· CRM at Minitrex
· Managing Technology at Genex Fuels
Section IV: Reinventing IT Capabilities
15. Developing IT Capabilities
16. IT Sourcing
17. Delivering IT Functions: A Decision Framework
18. Building Better IT Leaders: From the Bottom Up
19. Developing IT Professionalism
Mini-cases:
§ Leveraging IT Vendors at SleepSmart
§ Desktop Provisioning at CanCredit
§ Project Management at MM
Purchase Info ?
With CourseSmart eTextbooks and eResources, you save up to 60% off the price of new print textbooks, and can switch between studying online or offline to suit your needs.
Once you have purchased your eTextbooks and added them to your CourseSmart bookshelf, you can access them anytime, anywhere.
Buy Access
IT Strategy in Action, CourseSmart eTextbook
Format: Safari Book
$49.40 | ISBN-13: 978-0-13-603634-0