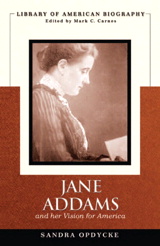 Description
A presentation of Jane Addams' story in clear non-technical language, focusing primarily on her philosophy and achievements, and on their significance in her own time and in ours.
Jane Addams devoted her life to working for social change. Today, more than 70 years after her death, she still compels our attention because of her coherent and humane social vision, and because of the manifold ways in which she worked to apply that vision to the problems of her time. Sandra Opdycke's biography brings Addams' life and work alive for students and general readers in a way no author has before.
Paperback, brief, and inexpensive, each of the titles in the Library of American Biography series focuses on a figure whose actions and ideas significantly influenced the course of American history and national life. In addition, each biography relates the life of its subject to the broader themes and developments of the times.
Table of Contents
Acknowledgments
Introduction
Part I: Inventing a Life of Service
CHAPTER 1 FINDING THE PATH
CHAPTER 2 REACHING OUT TO THE NEIGHBORS
CHAPTER 3 PUTTING DEMOCRACY INTO PRACTICE
CHAPTER 4 CHOOSING COLLABORATION
Part II: Working for Reform
CHAPTER 5 FOCUSING ON WOMEN
CHAPTER 6 NOURISHING THE SPIRIT OF YOUNG PEOPLE
CHAPTER 7 SPEAKING UP FOR LABOR
CHAPTER 8 TAKING PROGRESSIVISM TO THE NATION
Part III: Broader Horizons
CHAPTER 9 TRYING TO STOP A WAR
CHAPTER 10 SEARCHING FOR HOPE IN THE 1920S
CHAPTER 11 LOOKING FORWARD, LOOKING BACKWARD
CHAPTER 12 LEAVING A LEGACY
Discussion Questions
A Note on the Sources
Index
Purchase Info ?
With CourseSmart eTextbooks and eResources, you save up to 60% off the price of new print textbooks, and can switch between studying online or offline to suit your needs.
Once you have purchased your eTextbooks and added them to your CourseSmart bookshelf, you can access them anytime, anywhere.
Buy Access
Jane Addams and Her Vision of America, CourseSmart eTextbook
Format: Safari Book
$13.99 | ISBN-13: 978-0-205-01716-4