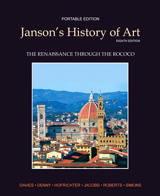 Description
For courses in the History of Art.
Rewritten and reorganized, this new edition weaves together the most recent scholarship, the most current thinking in art history, and the most innovative online supplements, including MyArtsLab and the Prentice Hall Digital Art Library. Experience the new Janson and re-experience the history of art.
The Portable Edition of Janson's History of Art, Eighth Edition features four lightweight, paperback books packaged together along with optional access to a powerful student website, www.myartslab.com, making the text more student friendly than ever. Janson's History of Art is still available in the original hardcover edition and in Volume I and Volume II splits. The Portable Edition is comprised of four books, each representing a major period of art history:
Long established as the classic and seminal introduction to art of the Western world, the Eighth Edition of Janson's History of Art is groundbreaking. When Harry Abrams first published the History of Art in 1962, John F. Kennedy occupied the White House, and Andy Warhol was an emerging artist. Janson offered his readers a strong focus on Western art, an important consideration of technique and style, and a clear point of view. The History of Art, said Janson, was not just a stringing together of historically significant objects, but the writing of a story about their interconnections, a history of styles and of stylistic change. Janson's text focused on the visual and technical characteristics of the objects he discussed, often in extraordinarily eloquent language. Janson's History of Art helped to establish the canon of art history for many generations of scholars.
The new Eighth Edition, although revised to remain current with new discoveries and scholarship, continues to follow Janson's lead in important ways: It is limited to the Western tradition, with a chapter on Islamic art and its relationship to Western art. It keeps the focus of the discussion on the object, its manufacture, and its visual character. It considers the contribution of the artist as an important part of the analysis. This edition maintains an organization along the lines established by Janson, with separate chapters on the Northern European Renaissance, the Italian Renaissance, the High Renaissance, and Baroque art, with stylistic divisions for key periods of the modern era. Also embedded in this edition is the narrative of how art has changed over time in the cultures that Europe has claimed as its patrimony.
Table of Contents
Preface xiv
Faculty and Student Resources for Teaching and Learning with Janson's History of Art xix
Introduction xxi
PART THREE: THE RENAISSANCE THROUGH ROCOCO
Chapter 13: Art in Thirteenth- and Fourteenth-Century Italy
THE GROWTH OF MENDICANT ORDERS AND THE VISUAL ARTS IN ITALY 438
The Franciscans at Assisi and Florence 438
Churches and Their Furnishings in Urban Centers 441
MATERIALS AND TECHNIQUES: Fresco Painting and Conservation 441
Pulpits in Pisan Churches 442
Expanding Florence Cathedral 445
Building for the City Government: The Palazzo della Signoria 448
PAINTING IN TUSCANY 449
Cimabue and Giotto 449
Siena: Devotion to Mary in Works by Duccio and Simone 453
PRIMARY SOURCES: Agnolo di Tura del Grasso 454
THE ART HISTORIAN'S LENS: The Social Work of Images 455
Pietro and Ambrogio Lorenzetti 458
Artists and Patrons in Times of Crisis 461
PRIMARY SOURCES: Inscriptions on the Frescoes in the Palazzo Pubblico, Siena 461
NORTHERN ITALY 465
Venice: Political Stability and Sumptuous Architecture 465
Milan: The Visconti Family and Northern Influences 465
Chapter 14: Artistic Innovations in Fifteenth-Century Northern Europe
COURTLY ART: THE INTERNATIONAL GOTHIC 471
Sculpture for the French Royal Family 471
Illuminated Manuscripts: Books of Hours 473
Bohemia and England 474
URBAN CENTERS AND THE NEW ART 476
Robert Campin in Tournai 477
Jan van Eyck in Bruges 479
MATERIALS AND TECHNIQUES: Panel Painting in Tempera and Oil 479
Rogier van der Weyden in Brussels 485
PRIMARY SOURCES: Cyriacus of Ancona (1449) 485
LATE FIFTEENTH-CENTURY ART IN THE NETHERLANDS 487
Aristocratic Tastes for Precious Objects, Personal Books, and Tapestries 487
THE ART HISTORIAN'S LENS: Scientific and Technical Study of Paintings 488
Panel Paintings in the Southern Netherlands 490
The Northern Netherlands 492
REGIONAL RESPONSES TO THE EARLY NETHERLANDISH STYLE 494
France 494
PRIMARY SOURCES: Fray José De Sigüenza (1544?–1606) 494
Spain 495
Central Europe 495
PRIMARY SOURCES: From the Contract for the St. Wolfgang Altarpiece 499
PRINTING AND THE GRAPHIC ARTS 499
Printing Centers in Colmar and Basel 501
MATERIALS AND TECHNIQUES: Printmaking 501
Chapter 15: The Early Renaissance in Fifteenth-Century Italy
FLORENCE IN THE FIFTEENTH CENTURY 507
The Baptistery Competition 507
PRIMARY SOURCES: In Praise of the City of Florence (ca. 1403–04) by Leonardo Bruni 507
Architecture and Antiquity in Florence 509
PRIMARY SOURCES: Lorenzo Ghiberti (ca. 1381–1455) 509
MATERIALS AND TECHNIQUES: Brunelleschi's Dome 512
PRIMARY SOURCES: Leon Battista Alberti on what makes a building beautiful 514
Ancient Inspirations in Florentine Sculpture 515
MATERIALS AND TECHNIQUES: Perspective 516
Painting in Florentine Churches and Chapels 525
THE ART HISTORIAN'S LENS: Patronage Studies 525
Florentine Painters in the Age of the Medici 530
DOMESTIC LIFE: PALACES, FURNISHINGS,
AND PAINTINGS IN MEDICEAN FLORENCE 533
Palace Architecture 533
PRIMARY SOURCES: Domenico Veneziano Solicits Work 534
Paintings for Palaces 536
PRIMARY SOURCES: Giovanni Dominici Urges Parents to Put Religious Images in Their Homes 539
Portraiture 541
RENAISSANCE ART THROUGHOUT ITALY, 1450–1500 543
Piero della Francesca in Central Italy 543
Alberti and Mantegna in Mantua 546
Venice 550
Rome and the Papal States 553
Chapter 16: The High Renaissance in Italy, 1495–1520
THE HIGH RENAISSANCE IN FLORENCE AND MILAN 558
Leonardo da Vinci in Florence 559
Leonardo in Milan 559
PRIMARY SOURCES: Leonardo da Vinci (1452–1519) 562
Leonardo Back in Florence and Elsewhere 564
ROME RESURGENT 566
Bramante in Rome 566
Michelangelo in Rome and Florence 568
PRIMARY SOURCES: Michelangelo Interprets the Vatican Pietà 568
Michelangelo in the Service of Pope Julius II 571
MATERIALS AND TECHNIQUES: Drawings 575
Raphael in Florence and Rome 577
THE ART HISTORIAN'S LENS: Cleaning and Restoring Works of Art 578
PRIMARY SOURCES: On Raphael's Death 583
VENICE 584
Giorgione 584
Titian 585
Chapter 17: The Late Renaissance and Mannerism in Sixteenth-Century Italy
LATE RENAISSANCE FLORENCE: THE CHURCH, THE COURT, AND MANNERISM 593
Florentine Religious Painting in the 1520s 593
The Medici in Florence: From Dynasty to Duchy 595
PRIMARY SOURCES: Benvenuto Cellini (1500–1571) 600
ROME REFORMED 603
Michelangelo in Rome 603
PRIMARY SOURCES: Michelangelo the Poet 603
The Catholic Reformation and Il Gesù 607
NORTHERN ITALY: DUCAL COURTS AND URBAN CENTERS 609
The Palazzo del Te 609
PARMA AND CREMONA 611
Correggio and Parmigianino in Parma 611
Cremona 613
VENICE: THE SERENE REPUBLIC 613
Sansovino in Venice 613
Andrea Palladio and Late Renaissance Architecture 614
PRIMARY SOURCES: Andrea Palladio (1508–1580) 616
Titian 617
MATERIALS AND TECHNIQUES: Oil on Canvas 618
PRIMARY SOURCES: From a Session of the Inquisition Tribunal in Venice of Paolo Veronese 620
Titian's Legacy 621
Chapter 18: Renaissance and Reformation in Sixteenth-Century Northern Europe
FRANCE: COURTLY TASTES FOR ITALIAN FORMS 625
Chateaux and Palaces: Translating Italian Architecture 626
Art for Castle Interiors 628
MATERIALS AND TECHNIQUES: Making and Conserving Renaissance Tapestries 629
SPAIN: GLOBAL POWER AND RELIGIOUS ORTHODOXY 631
The Escorial 632
El Greco and Religious Painting in Spain 633
CENTRAL EUROPE: THE REFORMATION AND ART 634
Catholic Contexts: The Isenheim Altarpiece 635
Albrecht Dürer and the Northern Renaissance 638
PRIMARY SOURCES: Albrecht Dürer (1471–1528) 641
Religious and Courtly Images in the Era of Reform 643
Painting in the Cities: Humanist Themes and Religious Turmoil 646
ENGLAND: REFORMATION AND POWER 647
PRIMARY SOURCES: Elizabethan Imagery 649
THE NETHERLANDS: WORLD MARKETPLACE 650
The City and the Court: David and Gossaert 651
THE ART HISTORIAN'S LENS: The Economics of Art 651
Antwerp: Merchants, Markets, and Morality 652
PRIMARY SOURCES: Karel van Mander Writes About Pieter Bruegel the Elder 656
Chapter 19: The Baroque in Italy and Spain
PAINTING IN ITALY 663
Caravaggio and the New Style 664
Artemisia Gentileschi 667
PRIMARY SOURCES: Artemisia Gentileschi (1593–ca. 1653) 669
Ceiling Painting and Annibale Carracci 670
ARCHITECTURE IN ITALY 675
The Completion of St. Peter's and Carlo Maderno 675
Bernini and St. Peter's 676
Architectural Components in Decoration 678
A Baroque Alternative: Francesco Borromini 679
The Baroque in Turin: Guarino Guarini 682
The Baroque in Venice: Baldassare Longhena 684
SCULPTURE IN ITALY 684
Early Baroque Sculpture: Stefano Maderno 684
The Evolution of the Baroque: Gianlorenzo Bernini 684
A Classical Alternative: Alessandro Algardi 687
MATERIALS AND TECHNIQUES: Bernini's Sculptural Sketches 688
PAINTING IN SPAIN 689
Spanish Still Life: Juan Sánchez Cotán 690
Naples and the Impact of Caravaggio: Jusepe de Ribera 690
Diego Velázquez: From Seville to Court Painter 691
Monastic Orders and Zurbarán 695
PRIMARY SOURCES: Antonio Palomino (1655–1726) 695
Culmination in Devotion: Bartolomé Esteban Murillo 696
Chapter 20: The Baroque in the Netherlands
FLANDERS 701
Peter Paul Rubens and Defining the Baroque 701
PRIMARY SOURCES: Peter Paul Rubens (1577–1640) 704
Anthony van Dyck: History and Portraiture at the English Court 707
Local Flemish Art and Jacob Jordaens 708
The Bruegel Tradition 709
Still-Life Painting 710
THE DUTCH REPUBLIC 713
The Haarlem Academy: Hendrick Goltzius 713
The Caravaggisti in Holland: Hendrick Terbrugghen 713
The Haarlem Community and Frans Hals 714
The Next Generation in Haarlem: Judith Leyster 717
Rembrandt and the Art of Amsterdam 718
THE ART HISTORIAN'S LENS: Authenticity and Workshops: Rubens and Rembrandt 718
MATERIALS AND TECHNIQUES: Etching, Drypoint, and Selective Wiping 722
THE MARKET: LANDSCAPE, STILL-LIFE, AND GENRE PAINTING 725
Landscape Painting: Jan van Goyen 725
City Views: Jacob van Ruisdael 726
Architectural Painting: Pieter Saenredam 728
Still-life Painting: Willem Claesz. Heda 729
Flower Painting: Rachel Ruysch 730
Genre Painting: Jan Steen 730
Intimate Genre Painting: Jan Vermeer 732
Exquisite Genre Painting: Gerard ter Borch 734
Chapter 21: The Baroque in France and England
FRANCE: THE STYLE OF LOUIS XIV 738
Painting and Printmaking in France 739
PRIMARY SOURCES: Nicolas Poussin (ca. 1594–1665) 742
THE ART HISTORIAN'S LENS: Forgeries and The Book of Truth 747
French Classical Architecture 748
Sculpture: The Impact of Bernini 754
BAROQUE ARCHITECTURE IN ENGLAND 754
Inigo Jones and the Impact of Palladio 755
Sir Christopher Wren 757
John Vanbrugh and Nicholas Hawksmoor 760
Chapter 22: The Rococo
FRANCE: THE RISE OF THE ROCOCO 762
Painting: Poussinistes versus Rubénistes 763
PRIMARY SOURCES: Jean de Jullienne (1686–1767) 766
MATERIALS AND TECHNIQUES: Pastel Painting 769
Chinoiserie 771
The French Rococo Interior 772
THE ROCOCO IN WESTERN EUROPE OUTSIDE OF FRANCE 774
William Hogarth and the Narrative 774
Canaletto 775
THE ROCOCO IN CENTRAL EUROPE 776
Johann Fischer von Erlach 777
Egid Quirin Asam 779
Dominikus Zimmermann 779
Balthasar Neumann 780
Giovanni Battista Tiepolo and Illusionistic Ceiling Decoration 781
Glossary
Bibliography
Index
Credits
Purchase Info
ISBN-10: 0-205-16114-6
ISBN-13: 978-0-205-16114-0
Format: Alternate Binding
This title is currently unavailable on myPearsonStore.
Digital Choices ?
MyLab & Mastering with Pearson eText is a complete digital substitute for a print value pack at a lower price.
MyLab & Mastering ?
MyLab & Mastering products deliver customizable content and highly personalized study paths, responsive learning tools, and real-time evaluation and diagnostics. MyLab & Mastering products help move students toward the moment that matters most—the moment of true understanding and learning.
+ Other Options