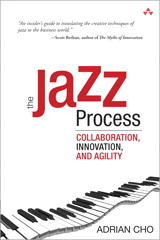 Description
"An insider's guide to translating the creative techniques of jazz to the business world."
--Scott Berkun, author of The Myths of Innovation
What Can Your Team Learn From Jazz Musicians?
Experienced jazz musicians apply specific principles to collaborate, execute, and manage change in real time--delivering extraordinary innovation in the face of non-stop pressure and risk. Now, jazz musician and collaboration expert Adrian Cho shows how you can use the same principles to dramatically improve any team's performance.
Cho systematically introduces the Jazz Process and demonstrates how it can help cross-functional teams improve teamwork, innovation, and execution. You'll learn new ways to encourage and integrate strong individual contributions from passionate and committed practitioners, and give them maximum autonomy while making sure your project's "music" never degenerates into chaotic "noise."
Through multiple case studies, Cho shows you how high-performance teams achieve their success.
• Master five core principles of working in teams: use just enough rules, employ top talent, put the team first, build trust and respect, and commit with passion
• Establish a realistic framework for effective, continuous execution
• Collaborate more effectively with team members, consumers, customers, partners, and suppliers
• Master the essentials of team execution: listening for change, leading on demand, acting transparently, and making every contribution count
• Reduce the "friction" associated with collaboration--and increase the synergy
• Use form, tempo, pulse, and groove to maintain constructive momentum
• Learn about the importance of healthy projects and teams
• Innovate by exchanging ideas and taking the right measured risks
• For every practitioner, leader, and manager interested in getting better results
Table of Contents
List of Figures xv
Foreword xvi
Preface xx
Acknowledgments xxiii
About the Author xxv
Introduction 1
PART I: WORKING
Chapter 1 Use Just Enough Rules 21
The Need for Rules 21
Employing Just Enough Rules 23
Breaking the Rules 26
Defining a Process 28
Documenting a Process 30
Evolving and Improving a Process 32
Chapter 2 Employ Top Talent 35
The Human Element 35
Individuality 37
The Importance of Awareness 40
Enabling Organizational Agility 44
Managing Human Resources 45
Chapter 3 Put the Team First 47
Putting the Team First 47
Absorbing Mistakes as a Team 49
Avoiding Groupthink 51
Team Awareness 52
Acknowledging Everyone's Efforts 53
Avoiding Team Elitism 54
Chapter 4 Build Trust and Respect 57
Trust and Respect 57
Benefits of Trust and Respect 58
Developing Trust and Respect 60
Acknowledging Efforts and Results 63
When Trust and Respect Are Lost 65
Chapter 5 Commit with Passion 69
Commitment 69
Less Work Requires More Commitment 71
Be Willing to Make Mistakes 74
Those Who Support the Team 77
Performing with Passion 78
Performing in Social Media 80
PART II: COLLABORATING
Essentials of Execution 85
Feedback and the Birth of Cybernetics 86
Feedback Loops 87
Hunting Cause 1: Trying Too Hard 89
Hunting Cause 2: Reacting Too Slowly 90
Breaking Out of Positive Feedback Loops 91
John Boyd and the OODA Loop 92
The Lessons of Blitzkrieg 95
OODA and the Jazz Process 97
Chapter 6 Listen for Change 103
Observing 103
What We Observe 107
Identifying and Ignoring Noise 111
Data Versus Information 113
Measuring Success 115
Change Is Unavoidable 119
Consideration 1: Cognitive Biases 121
Consideration 2: Thinking Outside the Box 124
Consideration 3: Seeing Through the Fog 125
Responding to Change 127
Identifying Change 129
Chapter 7 Lead on Demand 133
Our Fascination with Leadership 133
Taking Initiative 134
Decentralizing Leadership 136
Helping the Team Navigate 140
The Importance of Following 141
Chapter 8 Act Transparently 145
Transparency in the Execution Cycle 145
Authenticity 150
Openness 154
Timeliness 157
Clarity 159
Considerations 161
Chapter 9 Make Contributions Count 165
Contributing in Collaborative Scenarios 165
Measuring Contributions: Saying More with Less 170
Timing 178
Location and Proximity 179
PART III: EXECUTING
Chapter 10 Reduce Friction 185
Concepts of Friction 185
Reducing Friction 188
Optimizing Friction 190
Chapter 11 Maintain Momentum 197
Concepts of Momentum 197
Form 199
Tempo 202
Pulse 205
Groove 207
Momentum in an Organization 210
Maintaining Momentum 212
Chapter 12 Stay Healthy 219
The Importance of Health 219
Causes of Injury 223
Prevention 225
Chronic Conditions 227
Recovery 228
Shock 231
Monitoring Health 231
PART IV: INNOVATING
Chapter 13 Exchange Ideas 237
Creativity and Innovation 237
Benefits of Innovation 239
Enabling Innovation with Collaboration 240
Enabling Innovation with Diversity 242
Enabling Innovation with Dialogue 244
Fostering Innovation 246
Chapter 14 Take Measured Risks 251
Managing Risk 251
Risks of Failing to Diversify 252
Risks of Applying Best Practices 253
Taking Risks 255
Coda 267
Works Cited 269
Index 281
Purchase Info
ISBN-10: 0-13-265145-9
ISBN-13: 978-0-13-265145-5
Format: eBook (Watermarked)?
This eBook includes the following formats, accessible from your Account page after purchase:
EPUBThe open industry format known for its reflowable content and usability on supported mobile devices.
MOBIThe eBook format compatible with the Amazon Kindle and Amazon Kindle applications.
PDFThe popular standard, used most often with the free Adobe® Reader® software.
This eBook requires no passwords or activation to read. We customize your eBook by discreetly watermarking it with your name, making it uniquely yours.
Includes EPUB, MOBI, and PDF
$27.99
Add to Cart