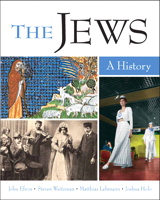 Description
New research has conspired to unsettle many established ideas about the Jewish past, challenging how historians have thought about and described it, and sometimes making it appear less accessible than it was thought to be in earlier generations. While these recent developments would appear to make a history of the Jewish people more difficult, the authors of The Jews: A History believe it has deepened and broadened our understanding. Though the reader will find in The Jews many familiar names, in its pages will also be found a broader spectrum of people: mothers, children, workers, students, artists, and radicals whose perspectives greatly expands the story of Jewish life from ancient times to the present.
Table of Contents
The Jews: A History
John Efron, Joshua Holo, Matthias Lehmann and Steven Weitzman
Table of Contents
Introduction
Chapter 1 Ancient Israel and other Ancestors
Chapter 2 Becoming the People of the Book
Chapter 3 Jews and Greeks, Jews in Greek
Chapter 4 Between Caesar and God
Chapter 5 Rabbinic Revelations
Chapter 6 Under the Crescent
Chapter 7 Under the Cross
Chapter 8 A Jewish Renaissance
Chapter 9 New Worlds, East and West
Chapter 10 The State of the Jews, Jews and the State
Chapter 11 Modern Transformations
Chapter 12 The Politics of Being Jewish
Chapter 13 A World Upended
Chapter 14 The Holocaust
Chapter 15 Difficult Freedoms
Glossary
Indices
Purchase Info ?
With CourseSmart eTextbooks and eResources, you save up to 60% off the price of new print textbooks, and can switch between studying online or offline to suit your needs.
Once you have purchased your eTextbooks and added them to your CourseSmart bookshelf, you can access them anytime, anywhere.
Buy Access
Jews, The: A History, CourseSmart eTextbook
Format: Safari Book
$35.99 | ISBN-13: 978-0-205-64572-5