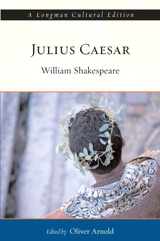 Description
From Longman's Cultural Editions series, Julius Caesar, edited by Oliver Arnold, presents Shakespeare's great political play–the most famous and influential English representation of the classical world.
The play is supplemented with a substantial introduction and a wide range of texts that encourage readers to explore the relation between Caesar and Elizabethan attitudes toward republicanism, tyranny, liberty, prophecy, dreams, and ghosts. The selections are generous enough both to open up room for novel interpretations and to serve as introductions to important aspects of Elizabethan culture. Lengthy excerpts from the Elizabethan translation of Plutarch's Lives of the Noble Greeks and Romans allow readers to study Shakespeare's transformation of source material into dramatic art. Sections on performance history and critical reception illuminate the play's enduring importance as a work of art and as a touchstone for political debate.
Handsomely produced and affordably priced, the Longman Cultural Editions series presents classic works in provocative and illuminating contexts-cultural, critical, and literary. Cultural Editions are available for sale individually, or may be packaged at no additional cost with The Longman Anthology of British Literature by Damrosch/Dettmar et al, or at a discount with any other Longman textbook.
Table of Contents
List of illustrations
About Longman Cultural Editions
About this Volume
Introduction
Table of Dates
Text: Julius Caesar
Contexts
Sources
Thomas North, from Plutarch's Lives of the Greeks and Romans (1579)
The Supernatural: Divine Signs, Ghosts, and Prophetic Dreams

I. Signs from heaven: divining the future in Caesar's Rome and Shakespeare's England
Thomas North, fromPlutarch's The Life of Julius Caesar
Ludwig Lavater,from Of Ghostes and Spirites, Walking by Night (1572)
Abraham Fleming, from A straunge and terrible wunder wrought very late in the parish church of Bongay (1577)
from theGeneva Bible (1560)
Martin Luther, from A very comfortable and necessary sermon…concerning the comming of our Savior Christ to Judgment and the
signs that go before the Last Day (1570)
William Fulke,from Antiprognosticon (1560)
II. Ghosts
Thomas North, from Plutarch's Life of Marcus Brutus
Ludwig Lavater,from Of Ghostes and Spirites, Walking by Night (1572)
III. Dreams
Virgil (Publius Vergilius Maro), from the Aeneid
Thomas Hill, from The Moste pleasaunte Arte of the Interpretacioun of Dreams (1567)
Republicanism, Popular Politics, and the Rhetoric of Liberty In 1599
I. Freedom and English Identity
William Harrison, from The Description of England (1587)
James Morice, from a speech in the House of Commons, February 27, 1593
Sir Christopher Yelverton, from a speech to Elizabeth I at the closing of Parliament, February 9, 1598

II. Parliament and Liberty
John Hooker (alias Vowell), from The order and usage of the Keeping of a Parliament in England (1571)
Sir Thomas Smith, from De Republicum Anglorum (1583)
III. Republican Rome and the Elizabethan Political Imagination
John Hooker (alias Vowell), from The order and usage of the Keeping of a Parliament in England (1571)
IV. Roman Tyranny in Elizabethan Context
Sir William Fitzwilliam, from his parliamentary diary (1584-85)
Richard Martin, from a speech in the House of Commons, November 20, 1601
Sir Thomas Hetley (Hedley), from a speech in the House of Commons, June 8, 1610

Performance History
I. Shakespeare in Hollywood, Part I: The Hollywood Carnival Association Production of 1916
Advertisements, Articles, and Reviews from The Los Angeles Times
II. Julius Caesar and the Political Crisis of the Twentieth Century: Orson Welles' Mercury Theater Production of 1937
Articles and Reviews from The Washington Post and the Chicago Daily Tribune
III. Shakespeare in Hollywood, Part II: Metro-Goldwyn-Mayer's Julius Caesar (1953)
Articles and Reviews from the New York Times, the Los Angeles Times, and the Chicago Daily Tribune
RECEPTION
Thomas Rymer, from A Short View of Tragedy (1693)
Joseph Addison, from the Tatler (1709)
Nicholas Rowe, from Some Account of the Life, etc, of Mr. William Shakespeare (1709)
Lewis Theobald, from The Censor (1717)
Voltaire, from Discours sur la tragédie, à milord Bolingbroke (1731)
Elizabeth Montagu, from An Essay on the Writings and Genius of Shakespeare (1769)
Edward Capell, from Notes and Various Readings to Shakespeare (1779)
Samuel Taylor Coleridge, from Lectures and notes on Shakespeare and other English poets (1811)
William Hazlitt,from Characters of Shakespear's Plays (1817)
George Bernard Shaw, from a review in The Saturday Review, January 29, 1898.
August Strindberg, from Open Letters to the Intimate Theater (1909)
Yves Bonnefoy, from Shakespeare and the French Poet (2004)
FURTHER READING
Purchase Info ?
With CourseSmart eTextbooks and eResources, you save up to 60% off the price of new print textbooks, and can switch between studying online or offline to suit your needs.
Once you have purchased your eTextbooks and added them to your CourseSmart bookshelf, you can access them anytime, anywhere.
Buy Access
Julius Caesar, A Longman Cultural Edition, CourseSmart eTextbook
Format: Safari Book
$5.99 | ISBN-13: 978-0-205-81682-8