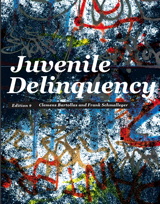 Description
For courses in Juvenile Delinquency.
A sociological exploration of the causes and consequences of delinquent behavior.
Juvenile Delinquency, Ninth Edition, explores what delinquency is, its causes and influences, and strategies for delinquency prevention. Beyond simply analyzing the problems of delinquency in American society, the authors also examine what can be done about delinquent behavior. The text follows a strong sociological focus and discusses how delinquency develops across a life course, including how it begins, persists, and/or how it terminates in the lives of individuals. The text is unified by the theme of delinquency prevention and offers evidence-based policy recommendations and suggestions for possible treatment interventions.
Table of Contents
Part 1—The Nature and Extent of Delinquency
Chapter 1 Adolescence and Delinquency
Chapter 2 Measurement and Nature of Delinquency
Part 2—The Causes of Delinquency
Chapter 3 Individual Causes of Delinquency
Chapter 4 Social Structural Causes of Delinquency
Chapter 5 Social Process Theories of Delinquency
Chapter 6 Social Interactionist Theories of Delinquency
Part 3—The Environmental Influences on and the Prevention of Delinquency
Chapter 7 Gender and Delinquency
Chapter 8 Families and Delinquency
Chapter 9 Schools and Delinquency
Chapter 10 Gangs and Delinquency
Chapter 11 Drugs and Delinquency
Part 4—The Juvenile Justice System
Chapter 12 Juvenile Justice Process
Chapter 13 Police and the Juvenile
Chapter 14 Juvenile Court
Chapter 15 Community-Based Corrections
Chapter 16 Juvenile Institutions and Aftercare
Purchase Info ?
With CourseSmart eTextbooks and eResources, you save up to 60% off the price of new print textbooks, and can switch between studying online or offline to suit your needs.
Once you have purchased your eTextbooks and added them to your CourseSmart bookshelf, you can access them anytime, anywhere.
Buy Access
Juvenile Delinquency, CourseSmart eTextbook, 9th Edition
Format: Safari Book
$66.99 | ISBN-13: 978-0-13-298737-0