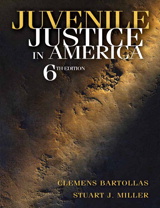 Description
For juvenile justice/juvenile delinquency courses in Criminal Justice, Criminology and Sociology departments.
Unique in approach, this book gives students an intimate look at the fascinating and sometimes tragic world of the juvenile offender and the juvenile justice system. Its comprehensive approach progresses from the history of juvenile justice to the types of delinquency, to the causes of offending, to juvenile courts, corrections, probation and community-based programming. Fully revised, this edition includes a new chapter on juvenile aftercare and sections on youth development and treatment. Voices in the system are heard via a unique collection of first-person accounts that capture the personal, psychological and thinking processes that characterize juvenile misbehavior.
Table of Contents
PART I: INTRODUCTION
1. Juvenile Justice: An Overview
2. The Measurement of Juvenile Crime and Victimization
3. Causes of Juvenile Crime
PART II: THE SYSTEM AND EARLY DECISION MAKING
4. The Police
5. The Juvenile Court
6. The Juvenile Court: Trial and Disposition
7. Juveniles in Adult Court
PART III: COMMUNITY-BASED CORRECTIONS
8. Juvenile Probation
9. Community-Based Programs
PART IV: INSTITUTIONALIZATION
10. Juvenile Institutionalization
11. Juvenile Aftercare
12. Treatment Technologies
PART V: TOWARD AN UNDERSTANDING OF THE YOUTHFUL OFFENDER
13. Juvenile Gangs
14. Drugs and Youthful Offending
PART VI: THE INTERNATIONAL SCENE
15. International Juvenile Justice
PART VII: THE FUTURE
16. Juvenile Justice in the Twenty-First Century
Purchase Info ?
With CourseSmart eTextbooks and eResources, you save up to 60% off the price of new print textbooks, and can switch between studying online or offline to suit your needs.
Once you have purchased your eTextbooks and added them to your CourseSmart bookshelf, you can access them anytime, anywhere.
Buy Access
Juvenile Justice in America, CourseSmart eTextbook, 6th Edition
Format: Safari Book
$55.99 | ISBN-13: 978-0-13-509991-9