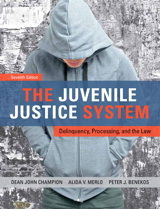 Description
A market-leader, The Juvenile Justice System, 7e, follows a true-to-life focus, capturing the essence of what it means to be part of the juvenile justice system through personality highlights, career snapshots, and personal accounts. The text provides a thorough examination of the juvenile justice system through easy-to-understand descriptions and discussions of policy, practice, and procedure in juvenile justice. It covers the entire process from arrest, intake, and adjudicatory hearings, to dispositions, and aftercare. This includes up-to-date, comprehensive coverage of historical, applied, theoretical, and legal information about the juvenile justice system and juvenile delinquency.
Table of Contents
Chapter 1 An Overview of Juvenile Justice in the United States
Chapter 2 The History of Juvenile Justice and Origins of the Juvenile Court
Chapter 3 Theories of Delinquency and Intervention Programs
Chapter 4 The Legal Rights of Juveniles
Chapter 5 Juveniles and the Police
Chapter 6 Intake and Preadjudicatory Processing
Chapter 7 Prosecutorial Decision Making in Juvenile Justice
Chapter 8 Classification and Preliminary Treatment: Waivers and Other Alternatives
Chapter 9 The Adjudicatory Process: Dispositional Alternatives
Chapter 10 Nominal Sanctions: Warnings, Diversion, and Alternative Dispute Resolution
Chapter 11 Juvenile Probation and Community-Based Corrections
Chapter 12 Juvenile Corrections: Custodial Sanctions and Aftercare
Purchase Info
ISBN-10: 0-13-276446-6
ISBN-13: 978-0-13-276446-9
Format: Book
Digital Choices ?
MyLab & Mastering with Pearson eText is a complete digital substitute for a print value pack at a lower price.
MyLab & Mastering ?
MyLab & Mastering products deliver customizable content and highly personalized study paths, responsive learning tools, and real-time evaluation and diagnostics. MyLab & Mastering products help move students toward the moment that matters most—the moment of true understanding and learning.
eTextbook ?
With CourseSmart eTextbooks and eResources, you save up to 60% off the price of new print textbooks, and can switch between studying online or offline to suit your needs.
Once you have purchased your eTextbooks and added them to your CourseSmart bookshelf, you can access them anytime, anywhere.