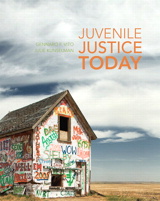 Description
For courses in Juvenile Justice.
Offering concise, self-contained chapters, Juvenile Justice Today, 1e explores the history of juvenile justice, the juvenile justice system, and special populations. Video profiles accompany each chapter and give a dramatic picture of juveniles in the system, along with the police, judges and personnel that work with them. The mycrimekit website supports the text and includes an e-book, practice quizzes, essay questions and online activities. Throughout the text, real-world examples and research and evaluations summaries help students understand the juvenile justice system, processes and people within it.
Table of Contents
PART I: HISTORY OF JUVENILE JUSTICE SYSTEM AND OFFENDING
1. History of Juvenile Justice
2. Juvenile Statistics: Measurement and Analysis
3. Dealing with Delinquency Theories, Issues, and Practice
PART II: THE JUVENILE JUSTICE SYSTEM
4. The Juvenile Justice Process
5. Juveniles and the Police: Where the System Starts
6. Juvenile Assessment and Classification
7. Legal Rights of Juveniles
8. Juvenile Probation and Diversion
9. Juvenile Institutions: The Success of Failure
10. Juvenile Parole
PART III: SPECIAL POPULATIONS: JUVENILE VICTIMS AND JUVENILE GANGS
11. Juvenile Victimization
12. Juvenile Gangs
Purchase Info ?
With CourseSmart eTextbooks and eResources, you save up to 60% off the price of new print textbooks, and can switch between studying online or offline to suit your needs.
Once you have purchased your eTextbooks and added them to your CourseSmart bookshelf, you can access them anytime, anywhere.
Buy Access
Juvenile Justice Today, CourseSmart eTextbook
Format: Safari Book
$64.99 | ISBN-13: 978-0-13-506003-2