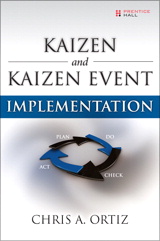 Description
The Practical, How-to Guide to Succeeding with Kaizen Programs and Events
Today manufacturers need kaizen's continuous productivity improvement and waste reduction techniques more than ever.
Kaizen and Kaizen Event Implementation
provides specific, detailed solutions that have proven successful in real manufacturing environments.
Ortiz, author of the best-selling
Lessons from a Lean Consultant,
covers every element of a successful kaizen program and offers techniques for implementing several key kaizen events. Drawing on his unsurpassed, in-the-trenches experience, he shares powerful insights into changing cultures, gaining management buy-in, training, reporting, follow-up, and much more. Whether you're a plant manager, director, engineer, or quality specialist, this book will help you make kaizen work.
Avoid common implementation mistakes
Find the right champion and establish an effective steering committee
Create timelines, select teams and leaders, and define objectives
Use kaizen events to implement 5S, standard work, Kanban, and new line designs
Includes a chapter-length case study from a real manufacturing firm
Table of Contents
Preface xi
Acknowledgments xv
About the Author xvii
Introduction xix

Part I: Kaizen Basics 1

Chapter 1: Kaizen and Kaizen Events 3
Kaizen 4
Kaizen Events 8

Chapter 2: The Company Kaizen Program 17
Kaizen Event Steering Committee 18
Introducing the Kaizen Champion 24
Tracking 25
Kaizen Communication 33

Chapter 3: The Kaizen Champion 39
Why a Kaizen Champion? 40
Kaizen Champion Skill Sets 41
Choosing the Kaizen Champion 47
Cost of a Kaizen Champion 49
Kaizen Champion Responsibilities 50
Alternatives 53
Why a Kaizen Champion? 54

Chapter 4: Kaizen Event Scheduling 55
Four Weeks Before the Kaizen Event 56
Two Weeks Before the Kaizen Event 62
One Week Before the Kaizen Event 64
Final Thoughts on the Timeline 66

Part II: Kaizen Events 67

Chapter 5: 5S Kaizen Events 69
Four Weeks to Go 70
Two Weeks to Go 72
One Week to Go 73
Let It Begin! 74
Maintenance 5S Events 84
5S Sustaining Tips 87

Chapter 6: Standard Work Kaizen Event 91
Preplanning 92
Day One 98
Day Two 102
Day Three 106
Day Four 106
Day Five 110

Chapter 7: Case Study: Samson Rope Technologies, Inc. 111
January 2007 112
Kaizen and Kaizen Event Implementation Training 113
The Return Visit 114
Lean Assessment and Strategy Sessions 115
Samson Rope's Kaizen Program 116
Kaizen Event 1, May 7–11, 2007: Cell 5, Cell 8, and Splicing 117
5S Continued 120
Kaizen Event 2, September 24–28, 2007: Maintenance 120
Completing 5S 122
Kaizen Event 3, December 3–7, 2007: Coating 123
2007 Complete 124
Lafayette, LA: Lean Assessment 124
Kaizen Event 1, February 20–22, 2008: Large Rope 901 125
Kaizen Event 2, April 7–11, 2008: Area G, Area D, Area B 127
Samson Rope Progress: Ferndale and Lafayette 128
Other Samson Rope Employees to Recognize 129

Chapter 8: Conclusion 131

Index 133


Purchase Info
ISBN-10: 0-13-702270-0
ISBN-13: 978-0-13-702270-0
Format: Safari PTG
This publication is not currently for sale.