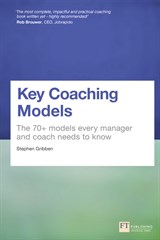 Description
KEY COACHING MODELS IS AN ESSENTIAL DIRECTORY OF 72 TOOLS FOR MANAGERS TO USE TO UNLOCK PERFORMANCE THAT NO MANAGER SHOULD BE WITHOUT.
All managers and leaders are now expected to use coaching techniques to get the most out of their people. With 72 proven, easy to use coaching models to enhance performance, job satisfaction and motivation, they will be effective for individuals, teams and organisations. Each model is explained and illustrated, as it would be in a coaching session, to give a genuine coaching perspective and context beyond the theory.
To help read and apply it quickly, each model has a figure or diagram and is broken into short, accessible sections:
• What is it?
• Where does it come from?
• When should I apply it?
• How do I apply it?
• Coaching tips
Key Coaching Models also includes links to further resources and coaching at www.theonlinecoach.co.uk
"A simple, yet sophisticated, coaching toolkit that cuts through coaching theory to give practical advice to coaches, leaders and managers. In today's complex world, coaching is a key activity essential for business and personal success – whether you are new to coaching or wish to extend your skills, this book is a gift." Liz Jewer, HR Director, TMP UK Limited
"A powerful source of inspiration with many unique insightful practical coaching models to enhance your personal and professional development." Andrea Bertone, European President - Monster.com
"Whether you are a professional coach wanting to further develop your abilities, or a leader who needs to get the very best from his team, this is a first-rate toolkit from one of the world's top coaches." Philip Rowley, Chief Financial Officer, Sony Picture Entertainment
"A well structure guide packed with powerful, practical tips that really work in the real world. A great book for Leaders or Coaches alike." Derek McManus COO O2 UK
"The most complete, impactful and practical coaching book written yet - Highly recommended!" Rob Brouwer, CEO Jobrapido
Table of Contents
Part 1: Developing the Management Core
1. Emotional Management (Emotional Awareness)
- The EI Model
- Feel – Think – React
- Men v Women
2. Individual Management (Accurate Assessment)
- Happiness
- The 3 Legs of the Stool
- The Wheel of Life
3. Confidence Management (Confidence)
- Confidence v Self-Confidence
- The 5 Key Differentiators
- Optimal Appraisal (20-30-50)
Part 2: Developing the Leadership Core
4. Emotional Leadership (Control of Emotions)
- 5 Steps to Manage Emotions
- S.A.R.A.
- The Spectrum of Fear
5. Authentic Leadership (Trustworthiness)
- Intelligent Trust
- Identity Decisions
- Future Self Identity
6. Consistent Leadership (Conscientiousness)
- The Habits Model
- Strategic Measures
- The Admiration Model
7. Flexible Leadership (Adaptability)
- Negotiables / Non-Negotiables
- Result v Process
- Avoiding De-Selection
Part 3: Results Driven Coaching
8. Goal Setting (Achievement)
- The G.R.O.W. Model
- Goal Setting Questions
- The ART in SMART
9. Creative Leadership (Initiative)
- Egg-Timer Model
- Conditions for Success
- Task v Test
10. Driving Results (Commitment)
- Agreement v Commitment
- Responsible v Accountable
- The Motivation to Move
11. Inspirational Leadership (Innovation)
- End in Mind Thinking
- Paradigm Questions
- New Habits Impact Model
12. Solution Focus (Optimism & Resilience)
- Affirmations
- Gestalt
- Cupcakes
Part 4: Coaching for Greater Influence
13. Creating Powerful Connections (Empathy)
- The Common Ground
- Emotional Contracts
- Connect 2 Understand
14. Establishing Dynamics (Situational Awareness)
- Coach16
- The Power of "Why?"
- Dynamic Leadership
15. Driving Motivation (Service Orientation)
- Sense of Service
- The Power of Your Question
- Your Core Success Question
16. Achieving High Performance (Leveraging Diversity)
- The Client Box
- Interdependence
- Rhino v Cattle
Part 5: Leadership Coaching
17. Influential Leadership (Influence)
- Creating Value Model
- The What, Why & How?
- Power v Influence
18. Strategic Leadership (Vision)
- Leader – Manager – Operator
- The Momentum Model
- The Spiral of Ambiguity
19. Leadership Development (Succession)
- The Development Continuum
- The Executive Coaching Model
- The Accelerated Learning Model
20. Compelling Leadership (Communication)
- Formal v Informal
- The Power of The Story
- Context – Consideration – Conclusion
Part 6: High Performance Coaching
21. Managing Issues (Conflict Management)
- The Conflict Options Model
- Constructive Criticism
- The 3 Boxes
22. Value Creation (Building Bonds & Connections)
- The Value of Asking Questions
- Questions to be Impressed
- Satisfaction & Loyalty
23. Managing High Performance Teams (Teamwork & Collaboration)
- Conditions for Collaboration
- Optimal "72"
- Directive & Consultative
24. Leading through Change (Developing Change Catalysts)
- Overcoming Resistance to Change
- The 80-16-04 of Change
- Ceiling – Floor – Furniture