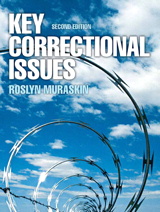 Description
For courses in Introduction to Corrections and Issues in Corrections.
This concise book discusses a broad range of correctional issues and explores them using an engaging text/reader format. Ranging from super max facilities to inmate reentry, its precise coverage explains the interactions that exist in the area of correctional facilities from both a historical and a twenty-first century view. This new edition offers over ten new essays and features compelling contributions from leaders in the field.
Table of Contents
Part I
Introductory Remarks
Chapter 1
The Correctional Key: In/Out - Lock'em Up and Throw Away the Key
Roslyn Muraskin
Chapter 2
Correctional Overview
Roslyn Muraskin
Chapter 3
Correctional History
Roslyn Muraskin
Chapter 4
Issues in Corrections: Changing Goals of Corrections
Roslyn Muraskin
Part II
Issues in Corrections
Chapter 5
Management within a Correctional Institution
Susan C. Craig
Chapter 6
Working with Mentally Disordered Offenders in Corrections
Key Sun
Chapter 7
Introduction to "Prisoner Reentry: The Iron Law of Imprisonment"
Roslyn Muraskin
Chapter 8
Prisoner Reentry: The Iron Law of Imprisonment
Jeremy Travis
Chapter 9
Key Correctional Numbers: Are We Becoming a Nation of Ex-Cons?
Roslyn Muraskin
Chapter 10
Managing Sex Offenders: Exploring Public Opinion
Michelle Coglan & Eleanor Maticka-Tyndale
Chapter 11
The Current Status of Inmates Living with HIV/AIDS
Mark Lanier & Roberto Hugh Potter
Chapter 12
Further Need for Epidemiological Criminology
Mark M. Lanier, Karol Lucken & Timothy A. Akers
Chapter 13
Faith-Based Prisons: An International Perspective
Janice Joseph
Chapter 14
Arresting Decline and Unlocking Potential: The Standards and Accreditation Approach to Professionalizing Jails
Keith N. Haley & Scott Blough
Chapter 15
Technocorrections: Biometric Scanning and Corrections
Janice Joseph & Rupendra Simlot
Part III
Death Penalty
Chapter 16
The Case for Life or Death: Aggravating and Mitigating Circumstances in Capital Murder Trials
Beth Bjerregaard, M. Dwayne Smith & Sondra J. Fogel
Chapter 17
Key Issues in Capital Punishment
Alan S. Bruce & Theresa A. Serverance
Chapter 18
Trends in the Use of Capital Punishment: At the Dawn of the Twenty-First Century
David Baker
Part IV
Gender: Females, Minorities and Young Girls
Chapter 19
Gender Responsive Programs: Addressing the Special Needs of Incarcerated Women
Alana Van Gundy
Chapter 20
The Experience of Women Serving Life Sentences
Sherri L. Browning, Cheryl L. Meyer & Megan M. Mark
Chapter 21
Incarcerated Adult and Juvenile Females: Special Issues to Consider
Michele W. Covington & Jana L. Jasinski waiting
Chapter 22
Women Prisoners: Their Needs
Renita L. Seabrook & Ramona Brockett
Part V
Summing Up
Chapter 23
Conclusions
Roslyn Muraskin
Purchase Info ?
With CourseSmart eTextbooks and eResources, you save up to 60% off the price of new print textbooks, and can switch between studying online or offline to suit your needs.
Once you have purchased your eTextbooks and added them to your CourseSmart bookshelf, you can access them anytime, anywhere.
Buy Access
Key Correctional Issues, CourseSmart eTextbook, 2nd Edition
Format: Safari Book
$43.99 | ISBN-13: 978-0-13-607148-8