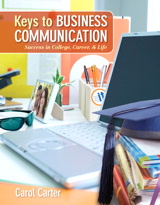 Description
Nurturing business communication skills through a personal and practical approach.
Clear and effective communication skills are necessary in every facet of student's—personal, academic, and professional. To help you become a well-rounded, successful communicator
Keys to Business Communication
provides the information you need so you can express yourself with confidence, clarity, and ease.
Available with mybcommlab!
Practice Makes Polished—mybcommlab is the online study tool that helps you polish communication skills so that your ready to tackle the rigors of today's business landscape. Visit mybcommlab.com to find out more.
Table of Contents
Chapter 1. Building Your Communication Skills
Chapter 2. Learning Teamwork and Leadership Skills in a Competitive World
Chapter 3. Connecting Across Cultures and Generations
Chapter 4. Preparing to Write
Chapter 5. Writing, Revising, and Editing Messages
Chapter 6. Designing, Proofreading, and Delivering Messages
Chapter 7. Positive Everyday Messages: Letters, Memos, and Electronic Communications
Chapter 8. Negative (Bad News) Messages
Chapter 9. Persuasive Messages: Using the Right Words at the Right Time
Chapter 10. Reports and Proposals
Chapter 11. Business Presentations
Chapter 12. Using Effective Visual Aids in Presentations
Chapter 13. The Job Search
Chapter 14. The Tools for Finding a Job: Cover Letter, Resume, and Portfolio
Chapter 15. Interviewing and Closing the Deal
Chapter 16. Writing Your Success Story: Becoming a World-Class Employee