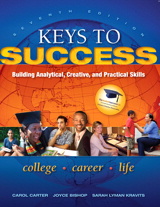 Description
Keys to Success unlocks every student's potential to succeed in college, career, and life by challenging them to realize, "It's not just what you know…it's what you know how to do."
Students will develop their goal-setting abilities by personalizing "best practice" tools and strategies for all topics covered. Keys' focuses on building analytical, creative, and practical thinking skills. This "thinking skills" framework challenges students of all levels to question, evaluate, innovate, relate, and follow through - which is critical in class AND highly valued in a competitive 21st century workplace where one must maximize strengths and bolster weaknesses. When students build the skills that will help them get where they want to go in college and beyond, they will be more motivated to retain and APPLY what they learn. Revision highlights include an Annotated Instructor's Edition, Social Media integration, 21st Century Skills coverage, and much more.
Table of Contents
Quick Start to College: Helpful Information and Advice as You Begin
I. DEFINING YOURSELF AND YOUR GOALS.
1. Welcome to College: Growing Toward Success
2. Values, Goals, and Time: Managing Yourself
3. Learning How You Learn: Making the Most of Your Abilities
II. DEVELOPING ACADEMIC SKILLS.
4. Critical, Creative, and Practical Thinking: Solving Problems and Making Decisions
5. Reading and Information Literacy: Learning from Print and Online Materials
6. Listening and Note Taking: Taking In and Recording Information
7. Memory and Studying: Retaining What You Learn
8. Test Taking: Showing What You Know
III. CREATING LIFE SUCCESS.
9. Diversity and Communication: Making Relationships Work
10. Wellness and Stress Management: Staying Healthy in Body and Mind
11. Managing Money: Living Within Your Means
12. Careers and More: Building a Successful Future
Appendix: Writing
Appendix: Social Networking and Media