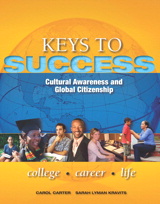 Description
An informative module which helps readers both understand cultural awareness and know how being culturally aware can benefit them. It brings in a practical angle with a focus on how being a global citizen can make a difference in settings both large and small.
Keys to Success: Cultural Awareness and Global Citizenship defines cultural awareness comprehensively, including information about the four levels of development and the advantages of being culturally aware. Then it takes cultural awareness into the realm of action with a discussion of cultural competence, which involves adjusting behavior in ways that enhance relationships and communication. It continues the focus on practical action with an overview of what it means to be a global citizen, helping readers understand their place in the global community and their potential to make a difference. The final section presents ways that readers can take action as global citizens, including environmental stewardship and communicating effectively across the globe.
Table of Contents
Learning Objectives for Keys to Success: Cultural Awareness and Global Citizenship:
What is cultural awareness?
How can I build cultural competence?
What is global citizenship?
How can I take action as a global citizen?
This title is also sold in the various packages listed below. Before purchasing one of these packages, speak with your professor about which one will help you be successful in your course.
Package ISBN-13: 9780321889447
Includes this title packaged with:
Keys to Success: Teamwork and Leadership
Carol J. Carter, Joyce Bishop, Sarah Lyman Kravits
$36.80 | Add to Cart
Purchase Info
ISBN-10: 0-13-285023-0
ISBN-13: 978-0-13-285023-0
Format: Book
This title is out of stock.
Digital Choices ?
MyLab & Mastering with Pearson eText is a complete digital substitute for a print value pack at a lower price.
MyLab & Mastering ?
MyLab & Mastering products deliver customizable content and highly personalized study paths, responsive learning tools, and real-time evaluation and diagnostics. MyLab & Mastering products help move students toward the moment that matters most—the moment of true understanding and learning.