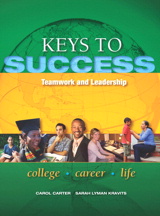 Description
Provides a comprehensive look at what it takes to work with a team successfully, focusing in part on leadership and what it takes to be an effective leader.
Keys to Success: Teamwork and Leadership module begins with information about teams and their importance, connecting with the ever-growing importance of teamwork in the modern workplace (both in-person and virtual). It defines and discusses leadership, providing examples that show leadership in different settings and contexts. With an understanding of teams and leaders, the reader then moves on to practical information about how a team can operate effectively and achieve its goals. This includes tips for both leadership and participation, goal setting and decision making, meeting etiquette, virtual teamwork, and how to handle pitfalls such as conflict and problematic personalities.
Table of Contents
Learning Objectives for Keys to Success: Teamwork and Leadership:
What is a team and why are teams important?
How do you and others interact in a team?
What is leadership?
How can a team operate effectively?
What strategies help teams achieve their goals?