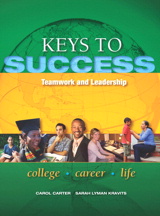 Description
Provides a comprehensive look at what it takes to work with a team successfully, focusing in part on leadership and what it takes to be an effective leader.
Keys to Success: Teamwork and Leadership module begins with information about teams and their importance, connecting with the ever-growing importance of teamwork in the modern workplace (both in-person and virtual). It defines and discusses leadership, providing examples that show leadership in different settings and contexts. With an understanding of teams and leaders, the reader then moves on to practical information about how a team can operate effectively and achieve its goals. This includes tips for both leadership and participation, goal setting and decision making, meeting etiquette, virtual teamwork, and how to handle pitfalls such as conflict and problematic personalities.
Table of Contents
Learning Objectives for Keys to Success: Teamwork and Leadership:
What is a team and why are teams important?
How do you and others interact in a team?
What is leadership?
How can a team operate effectively?
What strategies help teams achieve their goals?
This title is also sold in the various packages listed below. Before purchasing one of these packages, speak with your professor about which one will help you be successful in your course.
Package ISBN-13: 9780321889447
Includes this title packaged with:
Keys to Success: Cultural Awareness and Global Citizenship
Carol J. Carter, Joyce Bishop, Sarah Lyman Kravits
$36.80 | Add to Cart
Package ISBN-13: 9780133957358
Includes this title packaged with:
IDentity Series: Financial Literacy
Farnoosh Torabi
Keys to College Success, Student Value Edition, 8th Edition
Carol J. Carter, Sarah Lyman Kravits
NEW MyStudentSuccessLab with Pearson eText -- Valuepack Access Card
. . Pearson Education
$99.60 | Add to Cart
Purchase Info
Digital Choices ?
MyLab & Mastering with Pearson eText is a complete digital substitute for a print value pack at a lower price.
MyLab & Mastering ?
MyLab & Mastering products deliver customizable content and highly personalized study paths, responsive learning tools, and real-time evaluation and diagnostics. MyLab & Mastering products help move students toward the moment that matters most—the moment of true understanding and learning.