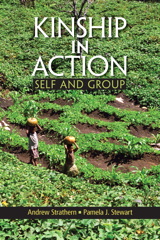 Description
For courses in Social Organization, Kinship, and Cultural Ecology.
Kinship has made a come-back in Anthropology. Not only is there a line of noted, general, introductory works and readers in the topic, but theoretical discussions have been stimulated both by technological changes in mechanisms of reproduction and by reconsiderations of how to define kinship in the most productive ways for cross-cultural comparisons.
In addition, kinship studies have moved away from the minutiae of kin terminological systems and the "kinship algebra" often associated with these, to the broader analysis of processes, historical changes and fundamental cultural meanings in which kin relationships are implicated. In this changed, and changing context both Andrew Strathern and Pamela J. Stewart -- both of the University of Pittsburgh -- bring together a number of interests and concerns, in order to provide pointers for students, as well as scholars, in this field of study.
Taking an explicitly processual approach, the authors examine definitions of terms such as kinship itself, approach the topic in a way that is invariably ethnographic, and deploy materials from field areas where they themselves have worked.
Table of Contents
Table of Contents
Chapter one:
INTRODUCTION. KINSHIP in ACTION: SELF and GROUP
Chapter two:
LIFE CYCLES
Chapter three:
CONCEPTS in REPRODUCTION
Chapter Four:
GROUPS
Chapter Five:
STRUCTURES OF MARRIAGE
Chapter Six (1)
EURO-AMERICAN KINSHIP
CONCEPTS and HISTORY
Chapter Seven
EURO-AMERICAN KINSHIP (2):
A DIVERSITY OF EXAMPLES
Chapter Eight
CONCLUSIONS: ISSUES OF CHANGE AND CONTINUITY
Appendix One: Kinship Terminologies
Appendix Two: Incest and Exogamy: Sex is Good to Prohibit
Index
Purchase Info ?
With CourseSmart eTextbooks and eResources, you save up to 60% off the price of new print textbooks, and can switch between studying online or offline to suit your needs.
Once you have purchased your eTextbooks and added them to your CourseSmart bookshelf, you can access them anytime, anywhere.
Buy Access
Kinship in Action: Self and Group, CourseSmart eTextbook
Format: Safari Book
$21.99 | ISBN-13: 978-0-205-83251-4