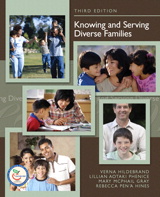 Table of Contents
I. INTRODUCTION.
1. Knowing and Serving the Human Family: An Introduction.
2. Serving Individuals and Families: Equal Protection.
3. Systems for Knowing Families.
II. ETHNIC DIVERSITY AMONG AMERICAN FAMILIES.
4. African American Families.
5. Hispanic American Families.
6. Asian American Families.
7. Arab American Families.
8. Native American Families.
9. Amish Families.
III. LIFESTYLE VARIATIONS AMONG U. S. FAMILIES.
10. Teenage Single-Parent Families.
11. Divorced Single-Parent Families.
12. Stepfamilies.
13. Families with Children with Special Needs.
14. Gay and Lesbian Families.
IV. CONCLUSIONS.
15. Serving Families.
References.
Name Index.
Subject Index.