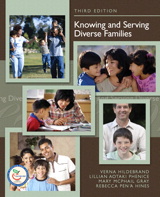 Description
For courses on Parents/Families in Early Childhood.
Knowing and Serving Diverse Families, third edition, is a text designed to assist college and university students as they learn the ways to expand their knowledge of diverse families beyond their own homes and neighborhoods. Consequently, this text puts the new professional in the frame of mind to interact with families in the world of human services, including education, during their studies and beyond graduation. The authors come from diverse backgrounds and experiences in family studies and child development to help new professionals gain insights of individuals from various groups. Their expertise has guided professionals to serve families in need of assistance. New content includes strengthened applications and "Helpful Techniques" in the core chapters, annotated Web Sites, and updated statistics and research.
Table of Contents
I. INTRODUCTION.
1. Knowing and Serving the Human Family: An Introduction.
2. Serving Individuals and Families: Equal Protection.
3. Systems for Knowing Families.
II. ETHNIC DIVERSITY AMONG AMERICAN FAMILIES.
4. African American Families.
5. Hispanic American Families.
6. Asian American Families.
7. Arab American Families.
8. Native American Families.
9. Amish Families.
III. LIFESTYLE VARIATIONS AMONG U. S. FAMILIES.
10. Teenage Single-Parent Families.
11. Divorced Single-Parent Families.
12. Stepfamilies.
13. Families with Children with Special Needs.
14. Gay and Lesbian Families.
IV. CONCLUSIONS.
15. Serving Families.
References.
Name Index.
Subject Index.
Purchase Info ?
With CourseSmart eTextbooks and eResources, you save up to 60% off the price of new print textbooks, and can switch between studying online or offline to suit your needs.
Once you have purchased your eTextbooks and added them to your CourseSmart bookshelf, you can access them anytime, anywhere.
Buy Access
Knowing and Serving Diverse Families, CourseSmart eTextbook, 3rd Edition
Format: Safari Book
$46.99 | ISBN-13: 978-0-13-501148-5