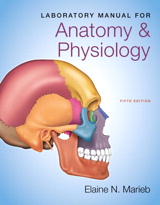 Description
This full-color laboratory manual is designed for instructors who teach a two-semester introductory anatomy & physiology course, but do not require the full range of laboratory exercises found in Marieb's best-selling Human Anatomy & Physiology Lab Manuals (Cat, Fetal Pig, and Main). Though this lab manual can be used with any two-semester text, it will be most effectively used with Marieb's Anatomy & Physiology, Fifth Edition. Instructors will find 27 concise, activity-based lab exercises that explore basic concepts in anatomy & physiology. For instructors who want their students to experience how to use a microscope, a complete exercise on its use and care can be found in Appendix A. Each lab is presented with learning objectives, cogent summaries of key concepts, and meaningful activities. These labs build students' observational and laboratory skills.
The lab manual features a brand new design, including new checkboxes within activities for students to check off tasks as they complete them, objectives now also appear in one list, at the beginning of each exercise, and updated terminology in accordance with Terminologia Anatomica and Terminologia Histologica. The lab manual also features a full-color, extensive Histology Atlas.
Table of Contents
HUMAN BODY AND ORIENTATION
1. The Language of Anatomy
2. Organ Systems Overview
THE CELL
3. The Cell - Anatomy and Division
4. Cell Membrane Transport Mechanisms
BASIC TISSUES AND THE SKIN
5. Classification of Tissues
6. The Skin (Integumentary System)
THE SKELETAL SYSTEM
7. Overview of the Skeleton
8. The Axial Skeleton
9. The Appendicular Skeleton
10. Joints and Body Movements
THE MUSCULAR SYSTEM
11. Microscopic Anatomy and Organization of Skeletal Muscle
12. Gross Anatomy of the Muscular System
THE NERVOUS SYSTEM
13. Neuron Anatomy and Physiology
14. Gross Anatomy of the Brain and Cranial Nerves
15. Spinal Cord and Spinal Nerves
16. Human Reflex Physiology
17. The Special Senses
18. Functional Anatomy of the Endocrine Glands
THE CIRCULATORY SYSTEM
19. Blood
20. Anatomy of the Heart
21. Anatomy of Blood Vessels
22. Human Cardiovascular Physiology—Blood Pressure and Pulse Determinations
THE RESPIRATORY SYSTEM
23. Anatomy of the Respiratory System
24. Respiratory System Physiology
OTHER MAJOR SYSTEMS
25. Functional Anatomy of the Digestive System
26. Functional Anatomy of the Urinary System
27. Anatomy of the Reproductive System
Histology Atlas
Appendix A: The Microscope
Appendix B: The Metric System
Purchase Info ?
With CourseSmart eTextbooks and eResources, you save up to 60% off the price of new print textbooks, and can switch between studying online or offline to suit your needs.
Once you have purchased your eTextbooks and added them to your CourseSmart bookshelf, you can access them anytime, anywhere.
Buy Access
Laboratory Manual for Anatomy & Physiology, CourseSmart eTextbook, 5th Edition
Format: Safari Book
$41.99 | ISBN-13: 978-0-321-88550-0