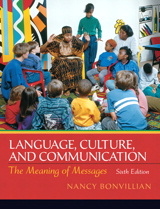 Description
For courses in Language and Culture, and Sociolinguistics
Using data from cultures and languages throughout the world to highlight both similarities and differences in human languages—this text explores the many interconnections among language, culture, and communicative meaning. It examines the multi-faceted meanings and uses of language and emphasizes the ways that language encapsulates speakers' meanings and intentions.
Table of Contents
Chapter One: Introduction
Chapter Two: The Form of the Message
Phonology
Morphology
Syntax
Semantics
Manual Language
Nonverbal Communication
Chapter Three: Language and Cultural Meaning
Foundations of Linguistic Anthropology
Lexical and Cultural Categories
Cultural Presupposition
The Cultural Meaning of L I anguage Ideologies
Extended and Transferred Meaning
Chapter Four: Contextual Components: Outline of an Ethnography of Communication
Ethnography of Communication
Settings
Participants
Topics and Goals
Speech Acts
Narratives
Routines
Chapter Five: Communicative Interactions
Structural Properties of Conversation
Conversational Postulates
Directives
Telephone Conversation
Online Communication
Sign Language Communication
Politeness
Chapter Six: Learning Language
Acquisition of Language
Complex Grammars
Comparative Evidence
Some Universal Sequences
Instructional Strategies
Chapter Seven: The Acquisition of Communicate Competence
Acquiring Communicative Styles
Learning Status and Role
Learning Discourse
Chapter Eight: Societal Segmentation and Linguistic Variation: Class and Race
Social Stratification
Stratification and Language Ideologies
Caste
Class
Race
Chapter Nine: Language and Gender
Pronunciation
Grammatical Variants
Choices of Vocabulary
Conversational Styles
Images of Gender in Linguistic Form
Chapter Ten: Multilingual Nations
Language Ideologies in Multilingual Nations
India
Canada
The United States
Chapter Eleven: Bilingual Communities
Linguistic Change
Language Use in Bilingual Communities
Bilingual Conversational Strategies
Interethnic Miscommunication
Chapter Twelve: Language and Institutional Encounters
Language Ideologies in Institutional Contexts
Language and Status
Institutional Contexts
Education
Medical Encounters
Legal Settings
The Media
Purchase Info ?
With CourseSmart eTextbooks and eResources, you save up to 60% off the price of new print textbooks, and can switch between studying online or offline to suit your needs.
Once you have purchased your eTextbooks and added them to your CourseSmart bookshelf, you can access them anytime, anywhere.
Buy Access
Language, Culture and Communication, CourseSmart eTextbook, 6th Edition
Format: Safari Book
$35.99 | ISBN-13: 978-0-205-83208-8