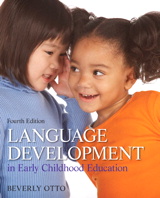 Description
Written for Language Development in Early Childhood Education and Emergent Literacy courses.
Birth through age 8. This text efficiently combines theory, research, and intentional developmentally appropriate practice to provide a solid foundation for understanding language development in the early years. Not only does it provide excellent guidance on how to develop classrooms and guidelines that enhance children's language development, but it also has a unique chapter on observing children and assessing their language abilities and provides suggestions for family collaboration.
The goal of this text is to present future early childhood educators with a compelling, comprehensive view of language development in young children while remaining focused on the development of phonological, semantic, syntactic, morphemic, and pragmatic language skills, children's understanding of written language, and ways in which this acquisition process can be enhanced in early childhood settings. Interesting vignettes of young children's language development open each chapter, and within each chapter anecdotal narratives illustrate key concepts and interaction strategies. A new full-color Pearson eTextbook is available for this edition.
Table of Contents
Chapter 1 Language in Our Lives
Chapter 2 Theoretical Perspectives and Contexts of Language Development
Chapter 3 Language Development Among Children of Linguistic Diversity
Chapter 4 Language Development of Infants and Toddlers
Chapter 5 Enhancing Language Development in Infants and Toddlers
Chapter 6 Language Development in Preschoolers
Chapter 7 Enhancing Language Development in Preschoolers
Chapter 8 Language Development in Kindergartners
Chapter 9 Enhancing the Language Development of Kindergartners
Chapter 10 Language Development in the Primary Years
Chapter 11 Enhancing Language Development in the Primary Years
Chapter 12 Language Assessment: Observing, Screening, Diagnosing, and Documenting
Chapter 13 Enhancing Language Development Among Children with Communicative Disorders
Chapter 14 Fostering Language Development Through School–Home Connections