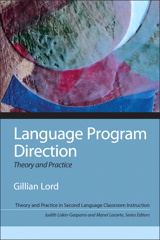 Description
Practical tips and theory for Language Program Directors
Language Program Direction: Theory and Practice combines helpful, practical, everyday advice with research and theory to offer a rich, contemporary resource for Language Program Directors or anyone involved in administering a language program.
Intended for current and future foreign language teaching professionals, volumes in the Theory and Practice in Second Language Classroom Instruction series examine issues in teaching and learning in language classrooms. The topics selected and the discussions of them draw in principled ways on theory and practice in a range of fields, including second language acquisition, foreign language education, educational policy, language policy, linguistics, and other areas of applied linguistics.
Table of Contents
Chapter 1: Introduction
Chapter 2: The mission statement
Chapter 3: Choosing a textbook
Chapter 4: Syllabi and other administrative materials
Chapter 5: Hiring and training instructors
Chapter 6: Incorporating technology
Chapter 7: Looking to the future
References
Purchase Info ?
With CourseSmart eTextbooks and eResources, you save up to 60% off the price of new print textbooks, and can switch between studying online or offline to suit your needs.
Once you have purchased your eTextbooks and added them to your CourseSmart bookshelf, you can access them anytime, anywhere.
Buy Access
Language Program Direction: Theory and Practice CourseSmart eTextbook
Format: Safari Book
$15.99 | ISBN-13: 978-0-205-96700-1