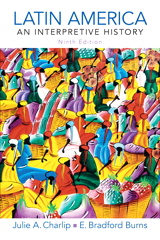 Description
For courses in the History of Latin America and Modern Latin America. Organized thematically, this text offers a clear narrative that weaves the story of Latin America together with coverage of broader themes and regional differences.
In addition to the great diversity within Latin America, there is also a common theme that encompasses the sweep of history in the region. The original author of the text, E. Bradford Burns, cast the problem as the paradox that poor people inhabit rich lands. The reason for this paradox is that a tiny group of elites confuses their nation's well-being with their own.
When this text was first published in 1972, there were very few texts on Latin America, and the ones that existed largely read like catalogs of historical events. Although there are others now, this textbook is still a leader in the field because of its clear thematic organization and a central narrative that tells a cohesive story, albeit with many variations.
Co-author Julie A. Charlip is committed to continuing the Burns legacy. Despite changes in research, interpretations, and theories, Burns's basic premise is still the most accurate and succinct, providing the best framework for approaching the region.
Table of Contents
List of Maps
Preface
Acknowledgments

Chapter 1: LAND AND PEOPLE
The Land
Latin America's Environmental Woes
The Indigenous
The European
The African
Mestizaje and the Creation of New People
¿Latin? America
Questions for Discussion
Recommended Readings
Tables:
Ratio of Population to Agricultural Land in Latin America and Selected European Countries
Labels for Miscegenation in Eighteenth-Century New Spain
Labels for Miscegenation in Eighteenth-Century Peru

Chapter 2: FROM CONQUEST TO EMPIRE
European Exploration
Patterns of Conquest
Colonial Economy
Colonial Administration
The Catholic Church
The Virgin de Guadalupe
The Conquered Peoples
Colonial Society
Questions for Discussion
Recommended Readings
Table:
Founding of Major New World Cities

Chapter 3: INDEPENDENCE
A New Sense of Self
The Bourbon Reforms
The Temptations of Trade
The Impact of Ideas
Early Warning Signs
International Examples
Impetus from the Outside
Elitist Revolts
Popular Revolution in Mexico
The Brazilian Exception
Aftermath
Questions for Discussion
Recommended Readings

Chapter 4: NEW NATIONS
Monarchy or Republic?
Liberals or Conservatives?
Masses and Elites
Threats to New Nations
Economic Instability
A Clash of Cultures
Control by Caudillos
Change and Continuity
Mexico's Early National Woes
Questions for Discussion
Recommended Readings
Table:
Abolition of Slavery

Chapter 5: THE EMERGENCE OF THE MODERN STATE
Political Stability
Positivism and Progress
Economic Prosperity
Progress on the Periphery
Modest Industrialization
The Growth of Cities
Superficial Modernization
The Popular Challenge
Questions for Discussion
Recommended Readings
Tables:
Railways in Latin America, 1913
Export Commodity Concentration Ratios, 1913
Direct and Portfolio Investment in Latin America, 1914

Chapter 6: NEW ACTORS ON AN OLD STAGE
The Presence of the United States
The New Middle Class
The Working Class
The Middle Class in Politics
Questions for Discussion
Recommended Readings
Tables:
United States Relations with Latin America
Women's Suffrage in Latin America

Chapter 7: THE MEXICAN EXPLOSION
Cracks in the Regime
Effective Suffrage and No Reelection
Patrias Chicas
The Maderista Revolt
Madero in Power
¡Viva Zapata!
Huerta and the Counter-Revolution
A Radical Constitution
The Radicals Lose
From Destruction to Construction
The Apex of the Revolution
A Revolutionary Balance Sheet
Questions for Discussion
Recommended Readings
Table:
Land Distribution in the Mexican Revolution

Chapter 8: FROM WORLD WARS TO COLD WAR
Economic Crises
Dictators and Populists
Latin America Turns Inward
Guatemala: A Flirtation With Democracy
Table:
Establishment of Depression Dictatorships, 1930s

Chapter 9: THE REVOLUTIONARY OPTION
Cuba
Cuba's Impact
Chile
Nicaragua
Development or Dependency?
Questions for Discussion
Recommended Readings
Tables:
Latin American Military Coups, 1961—1964
Latin American Guerrilla Groups

Chapter 10: DEBT AND DICTATORSHIP
Changing Economic Patterns
Military Models for Change
War in Central America
The Church under Attack
The New Social Movements
Do Elections Make Democracies?
Questions for Discussion
Recommended Readings
Table:
Antipolitical Military Regimes, 1964—1990

Chapter 11: FORWARD INTO THE PAST
Neoliberalism and Its Discontents
NAFTA and the Zapatistas
Latin America Swings Left
Colombia: The Longest War
The War on Drugs
Change and Continuity
Honduras: A Coup Rocks the Americas
Questions for Discussion
Recommended Readings
Tables:
Unsatisfied With Privatization of Public Services
Latin America Elects Leftists
Perceptions of Socialism vs. Capitalism in Latin America
Latin America through Art
A Chronology of Significan Dates in Latin American History
A Glossary of Spanish, Portuguese, and Indigenous Terms
A Glossary of Concepts and Terms
Index

Purchase Info ?
With CourseSmart eTextbooks and eResources, you save up to 60% off the price of new print textbooks, and can switch between studying online or offline to suit your needs.
Once you have purchased your eTextbooks and added them to your CourseSmart bookshelf, you can access them anytime, anywhere.
Buy Access
Latin America: An Interpretive History, CourseSmart eTextbook, 9th Edition
Format: Safari Book
$40.99 | ISBN-13: 978-0-205-70861-1