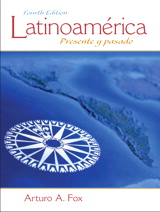 Description
Latinoamérica: presente y pasado, FourthEdition, introduces students to the cultures and history of Latin America from pre-Colombian times to the present. Written in an easy-flowing, narrative style, this new edition continues to offer an extensive yet tangible view of Latin American history. Furthermore, Latinoamérica examines the Hispanic experience not only in Latin America, but also in the United States, a topic of increasing relevance and interest.
Table of Contents
1. Las grandes civilizaciones precolombinas (I)
2. Las grandes civilizaciones precolombinas (II)
3. Europa en la época del descubrimiento de América
4. La conquista de la América Hispana
5. El sistema colonial
6. Sociedad, vida y cultura en el mundo colonial
7. El siglo XIX. La independencia y sus consecuencias
8. Latinoamérica a vista de pájaro
9. El siglo XX. Panorama latinoamericano
10. La escena cultural hasta la Segunda Guerra Mundial
11. La escena cultural desde la Segunda Guerra Mundial
12. Centroamérica y México
13. El área del Caribe: Haití, la República Dominicana, Cuba
14. La Hispanoamérica andina: Ecuador, Perú y Bolivia
15. Los países del cono sur: Paraguay, Uruguay, Argentina, Chile
16. El norte de Suramérica: Colombia y Venezuela
17. Los hispanos en los Estados Unidos
Purchase Info ?
With CourseSmart eTextbooks and eResources, you save up to 60% off the price of new print textbooks, and can switch between studying online or offline to suit your needs.
Once you have purchased your eTextbooks and added them to your CourseSmart bookshelf, you can access them anytime, anywhere.
Buy Access
Latinoamérica: Presente y pasado, CourseSmart eTextbook, 4th Edition
Format: Safari Book
$57.99 | ISBN-13: 978-0-205-79428-7