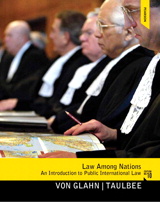 Description
Updated in its 10th edition, Law Among Nations explains issues of international law by tracing the field's development and stressing key principles and processes. Offering a more accessible alternative to casebooks and historical commentaries,this comprehensive text eliminates the need for multiple books by combining discussions of theory and state practice with excerpts from landmark cases.
Table of Contents
PART I. THE LAW OF NATIONS
Chapter 1. The Nature of International Law
Chapter 2. Development of Law Among Nations
Chapter 3. Sources of the Law
Chapter 4. International Agreements
Chapter 5. International Legal Process
Chapter 6. The Relationship between International and Municipal Law
PART II. SUBJECTS OF INTERNATIONAL LAW
Chapter 7. Subjects of International Law: Recognition
Chapter 8. Rights and Duties of International Legal Persons
PART III. THE ALLOCATION OF COMPETENCE IN INTERNATIONAL LAW
Chapter 9. Nationality
Chapter 10. Principles of Jurisdiction
Chapter 11. State Responsibility: Responsibility for Injuries to Aliens
Chapter 12. The Law of the Sea
Chapter 13. Jurisdiction over Air Space and Outer space
Chapter 14. Agents of International Intercourse Immunities
PART IV. INTERNATIONAL LAW AND THE INDIVIDUAL
Chapter 15. The Individual and International Law: Human Rights
Chapter 16. International Criminal Law
PART V. PROCESS AND ISSUES
Chapter 17. Adjudication
Chapter 18. International Law and Protection on the Environment
Chapter 19. International Economic Law
PART VI. LAW AND THE USE OF FORCE
Chapter 20. The Use of Force
Chapter 21. International Humanitarian Law: War Crimes
Chapter 22. War Crime Tribunals
Purchase Info
ISBN-10: 0-205-85577-6
ISBN-13: 978-0-205-85577-3
Format: Book
This publication is not currently for sale.