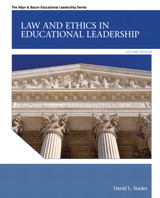 Description
For graduate level Law and Ethics courses in Educational Leadership Programs
A user-friendly, coherent look at the study of legal issues in a real-world, problem-based approach that emphasizes the knowledge, skills, and dispositions needed for successful PK-12 leadership
In this real world, problem-based approach to law and ethics in educational leadership, the author emphasizes the knowledge, skills, and dispositions today's educators need to be successful leaders. In a user-friendly, coherent approach to the study of legal issues, how changes in law and society impact decision, and how to apply ethical frameworks to future decision-making, David Stader encourages candidates to analyze, evaluate, and synthesize legal knowledge and ethical frameworks and then present their own views in a logical, coherent manner.
Included are case studies designed to expose PK-12 leadership candidates to the ambiguity presented by many of the problems they will face as school leaders; Power Points and a test bank that includes decision sets similar to the SLLA and ISLLC certification examination; an overview of several new U.S. Supreme Court decisions impacting PK-12 education; an emphasis on school safety issues; a look at student and employee use of social media; and an overview of student-on-student victimization, including sexual harassment, bullying, cyber-bullying, dating violence, and sexting
Table of Contents
CHAPTER 1:
The Importance of Ethical and Legal Decision Making
CHAPTER 2: Legal Bodies Governing Education
CHAPTER 3: Education, Religion, and Community Values
CHAPTER 4: Student Privacy and First Amendment Rights
CHAPTER 5: Due Process and Safe Schools
CHAPTER 6: Student Search
CHAPTER 7: Equal Protection
CHAPTER 8: Children with Disabilities
CHAPTER 9: Tort Liability
CHAPTER 10: Teacher Employment, Supervision, and Collective Bargaining
CHAPTER 11: Teacher Constitutional Law
CHAPTER 12: Computers and the Internet
CHAPTER 13: Law, Ethics, and Educational Leadership: Making the Connection
APPENDIX A: Amendments to the Constitution of the United States of America
GLOSSARY
INDEX
Purchase Info ?
With CourseSmart eTextbooks and eResources, you save up to 60% off the price of new print textbooks, and can switch between studying online or offline to suit your needs.
Once you have purchased your eTextbooks and added them to your CourseSmart bookshelf, you can access them anytime, anywhere.
Buy Access
Law and Ethics in Educational Leadership, CourseSmart eTextbook, 2nd Edition
Format: Safari Book
$44.99 | ISBN-13: 978-0-13-273330-4