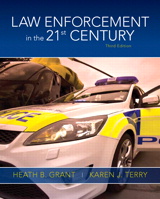 Description
For courses in Introduction to Law Enforcement.
Taking a big picture perspective, Law Enforcement in the 21st Century, 3e examines policing practices and how law enforcement agencies relate to one another and the entire criminal justice system. Streamlined in this edition, the book emphasizes linkages across law enforcement jurisdictions and how to develop a coordinated approach to information sharing and strategy development. Unique chapters appear on multicultural communities and new technologies used to assist police in prevention, communication and control. Linkages and Law Enforcement exercises encourage students to explore the changing dynamics and nature of policing within its larger contexts.
Table of Contents
PART ONE: LAW ENFORCEMENT IN THE CRIMINAL JUSTICE SYSTEM
1. Law Enforcement in a Democratic Society
2. Origins and Development of Law Enforcement
3. Law Enforcement and the Law
PART TWO: LAW ENFORCEMENT ORGANIZATIONS, OPERATIONS AND CONDUCT
4. Policing Functions and Units
5. Policing Discretion and Behavior
6. Patrol and Traffic
7. Search and Seizure, Arrest, and Interrogation
8. Investigation and Evidence Collection
9. Policing the Police
PART THREE: POLICING IN THE 21st CENTURY
10. Policing Multicultural Communities
11. Community Policing and Problem Solving
12. Advances in Policing: New Technologies for Crime Analysis
13. Standards for Police Recruitment
Purchase Info ?
With CourseSmart eTextbooks and eResources, you save up to 60% off the price of new print textbooks, and can switch between studying online or offline to suit your needs.
Once you have purchased your eTextbooks and added them to your CourseSmart bookshelf, you can access them anytime, anywhere.
Buy Access
Law Enforcement in the 21st Century, CourseSmart eTextbook, 3rd Edition
Format: Safari Book
$68.99 | ISBN-13: 978-0-13-255154-0