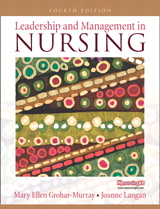 Description
For courses in Nursing Leadership and Management.
Leadership and Management in Nursing, Fourth Edition, offers an easy-to-read approach to leadership and management principles through case studies and student exercises. The text includes coverage of gender and cultural issues, work place violence, informatics, and the impact of legislation on the nursing profession. Updated with the latest literature, the new edition covers major changes in health care delivery that have occurred over the past several years.
Table of Contents
UNIT 1: LEADERSHIP 1
1. The Health Care System: Environment for Nursing Leadership
2. Leadership Theory
3. Interactive Processes of Leadership: Communication and the Group Process
4. Decision Making and Conflict Management
5. The Ethical Responsibility of the Nurse Leader
UNIT 2: AN OVERVIEW OF ORGANIZATIONS AND MANAGEMENT
6. Organization and Management Theory
7. Overview of Nursing Management
8. Delegation: The Manager's Tool
UNIT 3: SPECIAL RESPONSIBILITIES OF THE MANAGER
9. Maintaining Standards
10. Motivation in the Work Setting
11. Monitoring and Improving Performance
12. Legal Issues in the Work Place
13. Managing Change
UNIT 4: MANAGING RESOURCES
14. Managing Resources: The Staff
15. Managing Resources: Time
16. Managing Resources: The Budget
17. Informatics in Nursing
Purchase Info ?
With CourseSmart eTextbooks and eResources, you save up to 60% off the price of new print textbooks, and can switch between studying online or offline to suit your needs.
Once you have purchased your eTextbooks and added them to your CourseSmart bookshelf, you can access them anytime, anywhere.
Buy Access
Leadership and Management in Nursing, CourseSmart eTextbook, 4th Edition
Format: Safari Book
$29.99 | ISBN-13: 978-0-13-253926-5