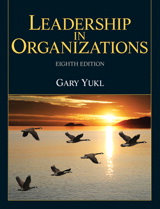 Description
An exploration of what makes an effective leader.
Leadership in Organizations provides a balance of theory and practice as it surveys the major theories and research on leadership and managerial effectiveness in formal organizations.
The eighth edition includes new examples, citations, and guidelines, and has been enhanced for better clarity and presentation.
Table of Contents
Chapter 1. Introduction
Chapter 2. Managerial Work
Chapter 3. Effective Leadership Behavior
Chapter 4. Leading Change and Innovation
Chapter 5. Participative Leadership and Empowerment
Chapter 6. Leadership Traits and Skills
Chapter 7. Contingency Theories and Adaptive Leadership
Chapter 8. Power and Influence Tactics
Chapter 9. Dyadic Relations and Followers
Chapter 10. Leadership in Groups and Teams
Chapter 11. Strategic Leadership in Organizations
Chapter 12. Charismatic and Transformational Leadership
Chapter 13. Ethical, Servant, Spiritual, and Authentic Leadership
Chapter 14. Cross-cultural Leadership and Diversity
Chapter 15. Developing Leadership Skills
Chapter 16. Overview and Integration
These online resources are available at no cost.
Companion Website for Leadership in Organizations, 8th Edition
This title is also sold in the various packages listed below. Before purchasing one of these packages, speak with your professor about which one will help you be successful in your course.
Package ISBN-13: 9781269922265
Includes this title packaged with:
Pearson Course Information - Valuepack Welcome Card
Pearson Learning Solutions
$21.60 | Add to Cart