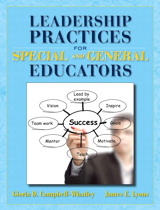 Description
Pre- and in-service special and general education leaders get a comprehensive overview of the issues and challenges they face, along with viable options for choosing and implementing effective practices, resolving problems, and developing policies that work.
Readable, practical, authentic, and not overly theoretical, this book focuses on helping practicing and future school leaders—in both general and special education—deal with the unique problems and issues they face day to day as they lead and administer special education programs and serve students with disabilities and their families. Recognizing the challenges involved in deciphering the federal statutes and regulations that govern special education, the authors present the material in a manner that lets the reader "cut to the chase" and readily get the gist of pertinent issues that relate to special education.
A vignette opening each chapter reflects a typical issue that a principal or special education director is likely to encounter in a school setting. The chapter then provides a comprehensive discussion of the issue, citing relevant statutes and regulations where appropriate to give readers the background information they need to understand that specific issue. Legal, practical, and logistical issues are covered, along with issues relating to sensitivity, fairness, and empathy and parental perceptions.
Table of Contents
Chapter 1: Educational Leadership: An Evolving Role
Chapter 2: Laws and Policy Affecting Schools: Going Beyond Compliance
Chapter 3: School Reform and the Standards-Embedded Curriculum
Chapter 4: Assessment Procedures and the IEP
Chapter 5: Discipline: Functional Behavior Assessments and Behavior Intervention Plans
Chapter 6: Building Ethos and Interpersonal Relationships with Families and Students
Chapter 7: Transitioning from Early Intervention to Adulthood
Chapter 8: Response to Intervention and Inclusion: Facilitating Instructional Arrangements
Chapter 9: Leadership in a Multicultural Setting
Chapter 10: Universal Design for Learning: Accessing the General Curriculum with Effective Teaching
Chapter 11: Program Evaluation
Chapter 12: Human Resources
Chapter 13: School Finance and Special Education
Chapter 14: Transportation and Facility Issues
Purchase Info ?
With CourseSmart eTextbooks and eResources, you save up to 60% off the price of new print textbooks, and can switch between studying online or offline to suit your needs.
Once you have purchased your eTextbooks and added them to your CourseSmart bookshelf, you can access them anytime, anywhere.
Buy Access
Leadership Practices for Special and General Educators, CourseSmart eTextbook
Format: Safari Book
$58.99 | ISBN-13: 978-0-13-298239-9