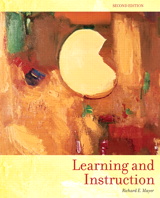 Description
How do people learn? How can instruction promote learning? Learning and Instruction, second edition, thoroughly and succinctly answers these two fundamental educational psychology questions. The author focuses on the big ideas, preferring that students understand a few exemplary ideas deeply, rather than numerous ideas superficially. The book is research-based and painstakingly shows how specific instructional implications follow from research and theory. Coverage is organized around the two sides of the educational coin, learning in subject areas and instructional methods, that foster meaningful learning. The text uses clear definitions, concrete examples, active learning tasks and a conversational writing style that easily engages readers by addressing them directly.
Table of Contents
Chapter 1 Introduction to Learning and Instruction
SECTION I LEARNING
Chapter 2 Learning to Read Fluently
Chapter 3 Learning to Read for Comprehension
Chapter 4 Learning to Write
Chapter 5 Learning Mathematics
Chapter 6 Learning Science
SECTION II INSTRUCTION
Chapter 7 Teaching by Giving Productive Feedback
Chapter 8 Teaching by Providing Concreteness, Activity, and Familiarity
Chapter 9 Teaching by Explaining Examples
Chapter 10 Teaching by Guiding Cognitive Processing During Learning
Chapter 11 Teaching by Fostering Learning Strategies
Chapter 12 Teaching by Fostering Problem-Solving Strategies
Chapter 13 Teaching by Creating Cognitive Apprenticeship in Classrooms and Beyond
Chapter 14 Teaching by Priming Students' Motivation to Learn
References
Author Index
Subject Index
Purchase Info ?
With CourseSmart eTextbooks and eResources, you save up to 60% off the price of new print textbooks, and can switch between studying online or offline to suit your needs.
Once you have purchased your eTextbooks and added them to your CourseSmart bookshelf, you can access them anytime, anywhere.
Buy Access
Learning and Instruction, CourseSmart eTextbook, 2nd Edition
Format: Safari Book
$64.99 | ISBN-13: 978-0-13-501186-7