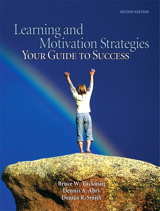 Description
For any course that covers study skills, study strategies, or college success strategies.
Written and designed to enhance students' independent learning and academic performance, this innovative hands-on text uses a consistent set of psychological principles as the basis for teaching students how to learn and motivate themselves. It features a highly user-friendly style and an open, nontraditional look and approach that lends itself easily to independent study. Four major strategies and eight substrategies are used throughout the book as unifying themes in exploring the various keys to achievement. Updates include (1) new topics on critical thinking, resilience, and diversity, (2) more techniques for reducing procrastination, increasing responsibility, learning from lectures and text, overcoming test anxiety, and choosing careers, and (3) updating and improving its extensive list of interactive activities, including a software package to accompany the book that will enable users to complete all the interactive activities and end-of-module quizzes online and submit them electronically to their instructors for grading and feedback.
Table of Contents
Module 1: Learning and Motivation Strategies for Achievement.
Module 2: The Keys to Achievement.
Module 3: Procrastination: The Thief of Time.
Module 4: Believing in Yourself: Self-Confidence.
Module 5: Taking Responsibility: It's Up to You.
Module 6: Active Listening.
Module 7. Active Reading.
Module 8: Preparing for Exams.
Module 9: Using Critical Thinking to Prepare Papers and Speeches.
Module 10. Resilience: Managing Your Life in School.
Module 11: Building Relationships That Work and Embracing Diversity.
Module 12: Preparing for Your Future.
Appendix.
Assignment 1.2 Class Schedule worksheet
Assignment 3.4 "How I Spent My Time This Week" worksheet
Assignment 4.2 Mood Thermometers: How I Feel Right Now (2 copies)
Assignment 5.4 "No Looking Back"
Quickpractice 7.2, 7.3 "Understanding the Allure of the Internet"
Assignment 7.1 "Race and the Schooling of Black Americans"
Quickpractice 7.4; Assignment 7.2 Biology textbook pages
Quickpractice 7.5; Assignment 7.3 Math textbook pages
Portfolio 7: Text Document
Assignment 8.3; Assignment 8.5 "Planet Prejudice"
Assignment 8.4 "Gordon Parks"
Index.