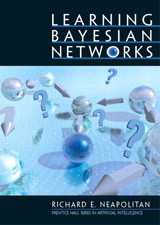 Table of Contents
Preface.
I. BASICS.
1. Introduction to Bayesian Networks.
2. More DAG/Probability Relationships.
II. INFERENCE.
3. Inference: Discrete Variables.
4. More Inference Algorithms.
5. Influence Diagrams.
III. LEARNING.
6. Parameter Learning: Binary Variables.
7. More Parameter Learning.
8. Bayesian Structure Learning.
9. Approximate Bayesian Structure Learning.
10. Constraint-Based Learning.
11. More Structure Learning.
IV. APPICATIONS.
12. Applications.
Bibliography.
Index.