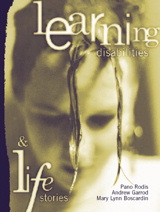 Table of Contents
Preface.
Introduction.
LIFE STORIES.
1.Oliver Queen, Blake Academy and the Green Arrow.
2.Lynn Pelkey, In the LD Bubble.
3.Aaron Piziali, Revolution.
4.Christie Jackson, Look in the Mirror and See What I See.
5.Michael Sanders, Trusting My Strengths.
6.Gretchen O'Connor, Bad.
7.Joshua Green, ADHD: Window, Weapon, or Support.
8.Velvet Cunningham, Lovelvet.
9.Garett Day, Finally Saying What I Mean.
10.Kevin Marshall, Jr., I Will Not Succumb to Obstacles.
11.Kelly Miskell, Learning to Raise My Hand.
12.Nelson Vee, Riding the Drug and Alcohol Train.
13.Alison May, Figuring out My World.
SCHOLARLY PERSPECTIVES.
Education.
14.Lisa Delpit,
"Skin-Deep" Learning.
15.Carol S. Witherell and Pano Rodis,
"Shimmers of Delight and Intellect": Building Learning Communities of Promise and Possibility.
16.Harold McGrady, Janet Lerner, and Mary Lynn Boscardin,
The Educational Lives of Students with Learning Disabilities.
Psychology.
17.Robert Kegan,
Easing a World of Pain: Learning Disabilities and the Psychology of Self-Understanding.
18.Pano Rodis,
Forging Identities, Tackling Problems, and Arguing with Culture: Psychotherapy with Persons Who Have Learning Disabilities.
Appendix: Resource List for Persons with Learning Disabilities.Glossary.Bibliography.About the Editors and Contributors.Index.
Additional Course Materials