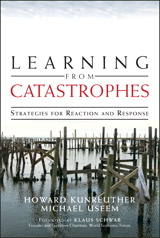 Description
Breakthrough Best Practices for Managing Extreme Risks—Both Natural and Man-Made
How to prepare for risks ranging from financial crises and climate change to pandemics and terrorism

Indispensable information for leaders and strategists in business, the public sector, and nonprofit organizations alike

Draws on leading-edge research from The Wharton School and top risk management experts worldwide
Hurricanes. Earthquakes. Pandemics. Global economic crises. Terrorism. Whether natural or man-made, massive catastrophes happen far more often than decision-makers once imagined. Organizations must prepare for these events—but how?
In Learning from Catastrophes, the world's leading experts in extreme risk management present innovative approaches to mitigation, preparedness, and response. They show how to dramatically improve forecasting and communication about high-consequence risks, use economic incentives to improve resilience and sustainability, and proactively implement operational steps for rapid, effective response to disaster.
In today's increasingly unstable, uncertain world, preparing for extreme risk has never been more urgent. Whether you're a leader in the private, public, or nonprofit sector, this book presents the principles and strategies you'll need.
Table of Contents
Foreword by Klaus Schwab xiii
Preface by Howard Kunreuther and Michael Useem xv
Part I: Setting the Stage
Chapter 1: Principles and Challenges for Reducing Risks from Disasters 1
Howard Kunreuther and Michael Useem
Chapter 2: Acting in Time Against Disasters: A Comprehensive Risk Management Framework 18
Herman B. "Dutch" Leonard and Arnold M. Howitt
Part II: Linking Risk Assessment, Risk Perception, and Risk Management
Chapter 3: Forecasting and Communicating the Risk of Extreme Weather Events 41
Geoff Love and Michel Jarraud
Chapter 4: Cognitive Constraints and Behavioral Bias 64
Séan Cleary
Chapter 5: The Five Neglects: Risks Gone Amiss 83
Alan Berger, Case Brown, Carolyn Kousky, and Richard Zeckhauser
Chapter 6: Can Poor Countries Afford to Prepare for Low-Probability Risks? 100
Michele McNabb and Kristine Pearson
Chapter 7: The Role of Risk Regulation in Mitigating Natural Disasters 121
Bridget M. Hutter
Chapter 8: Hedging Against Tomorrow's Catastrophes: Sustainable Financial Solutions to Help Protect Against Extreme Events 139
Erwann O. Michel-Kerjan
Part III: Applications to Catastrophic Risks
Chapter 9: A Financial Malignancy 156
Suzanne Nora Johnson
Chapter 10: Climate Change: Nature and Action 170
Thomas E. Lovejoy
Chapter 11: Lessons from Risk Analysis: Terrorism, Natural Disasters, and Technological Accidents 177
Detlof Von Winterfeldt
Chapter 12: Turning Danger to Opportunities: Reconstructing China's National System for Emergency Management After 2003 190
Lan Xue and Kaibin Zhong
Chapter 13: Dealing with Pandemics: Global Security, Risk Analysis, and Science Policy 211
Jiah-Shin Teh and Harvey Rubin
Part IV: Innovation and Leadership
Chapter 14: Long-Term Contracts for Reducing Losses from Future Catastrophes 235
Howard Kunreuther
Chapter 15: Developing Leadership to Avert and Mitigate Disasters 249
Michael Useem
Endnotes 269
About the Authors 307
World Economic Forum Global Agenda Council on the Mitigation of Natural Disasters 313
Index 317
Purchase Info
ISBN-10: 0-13-264398-7
ISBN-13: 978-0-13-264398-6
Format: eBook (Watermarked)?
This eBook includes the following formats, accessible from your Account page after purchase:
EPUBThe open industry format known for its reflowable content and usability on supported mobile devices.
MOBIThe eBook format compatible with the Amazon Kindle and Amazon Kindle applications.
PDFThe popular standard, used most often with the free Adobe® Reader® software.
This eBook requires no passwords or activation to read. We customize your eBook by discretely watermarking it with your name, making it uniquely yours.
Includes EPUB, MOBI, and PDF
$39.99 $31.99
Add to Cart