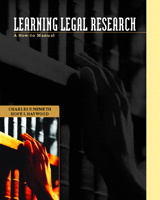 Description
For undergraduate courses in Legal Research, Paralegal Studies, Criminal Justice, and Political Science.
Using a hands-on approach, this text provides students with an easy and comfortable way to learn about the processes, materials, and environment of legal research. It contains an introductory overview of a law library collection, allows students to conduct research without visiting an actual library, and explains—with simple language and exercises—the many methods of legal research.
Table of Contents
I. LEGAL RESEARCH-PRELIMINARY CONSIDERATIONS.
1. Introduction to Legal Research.
2. Analysis and Research Methods: The Most Important Tasks.
3. Citation Method.
II. FINDING TOOLS.
4. The Index: Legal Research's Most Powerful Tool.
5. Digests—A Remarkable Finding Tool.
6. Computer Assisted Legal Research CALR.
III. SECONDARY RESOURCES.
7. Law Books, Texts, Services and Periodical.
8. Legal Encyclopedias and Dictionaries.
9. ALR Series: The American Law Reports.
IV. PRIMARY RESOURCES.
10. Case Law Analysis.
11. Statutes and Legislative Resources.
12. Government Regulations/Administrative Law.
V. FINAL CONSIDERATIONS.
13. Updating the Law.
14. Government Materials, Publications, and Compilations.
15. Writing Applications in the Law and Justice Field.
Purchase Info ?
With CourseSmart eTextbooks and eResources, you save up to 60% off the price of new print textbooks, and can switch between studying online or offline to suit your needs.
Once you have purchased your eTextbooks and added them to your CourseSmart bookshelf, you can access them anytime, anywhere.
Buy Access
Learning Legal Research: A How-to Manual, CourseSmart eTextBook
Format: Safari Book
$68.99 | ISBN-13: 978-0-13-048965-4