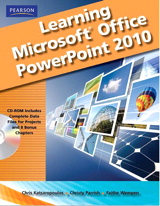 Description
Prepare students for Microsoft® Office PowerPoint 2010!
Learning Microsoft PowerPoint 2010 features a student-friendly, step-by-step format with clear, full-screen shots to engage students and help them work independently.
Table of Contents
Front Matter
Part 1: Microsoft Office Basics
Ch 1: Using the Common Features of Microsoft Office 2010
Part 2: Introductory PowerPoint
Ch 1: Getting Started with PowerPoint 2010
Ch 2: Working with Lists and Graphics
Ch 3: Enhancing a Presentation
Ch 4: Finalizing a Presentation
Part 3: Advanced PowerPoint
Ch 5: Working with the Slide Master and Presentation Properties
Ch 6: Enhancing Presentations with Media
Ch 7: Using Advanced Transitions and Effects
Ch 8: Working with Tables
Ch 9: Working with Outlines and Advanced Features
Glossary
Index
License Agreement
This title is also sold in the various packages listed below. Before purchasing one of these packages, speak with your professor about which one will help you be successful in your course.
Package ISBN-13: 9780132828130
Includes this title packaged with:
Learning Microsoft Office Word 2010, Student Edition
Suzanne Weixel, Faithe Wempen
$155.20 $147.44 | Add to Cart