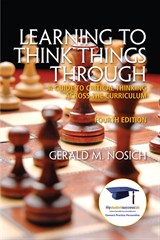 Description
For Freshman Orientation or Critical Thinking courses as well as a supplementary text for use in any subject-matter at any educational level. This concise, effective guide is designed to help students learn to think critically in any subject-matter.
Learning to Think Things Through presents a combination of instruction and exercises that shows the reader how to become active learners rather than passive recipients of information, use critical thinking to more fully appreciate the power of the discipline they are studying, to see its connections to other fields and to their day-to-day lives, and to maintain an overview of the field so they can see the parts in terms of the whole. The model of critical thinking (used throughout the book) is in terms of the elements of reasoning, standards, and critical thinking processes. This model is well-suited to thinking through any problem or question. The 4th edition reflects streamlined writing, with changes and substantial edits on virtually every page.
Personalize learning with MyStudentSuccessLab™
MyStudentSuccessLab is an online homework, tutorial, and assessment program designed to engage students and improve results. Within its structured environment, students practice what they learn, test their understanding, and pursue a plan that helps them better absorb course material and understand difficult concepts. It fosters the skills students need to succeed for ongoing personal and professional development. Whether face-to-face or online, MyStudentSuccessLab personalizes learning to help students build the skills they need through peer-led video interviews, interactive practice exercises, and activities that provide academic, life, and professionalism skills.
NOTE: This is the standalone book, if you want the book/access card order the ISBN below:
0134019466 / 9780134019468 Learning to Think Things Through: A Guide to Critical Thinking Across the Curriculum Plus NEW MyStudentSuccessLab Update -- Access Card Package
Package consists of:
0133939243 / 9780133939248 MyStudentSuccessLab -- Glue in Access Card
0133939251 / 9780133939255 MyStudentSuccessLab -- Inside Star Sticker
0137085141 / 9780137085149 Learning to Think Things Through: A Guide to Critical Thinking Across the Curriculum
Table of Contents
(NOTE: Each chapter concludes with a "Some Outcomes" section and Exercises.)

Chapter 1. What Is Critical Thinking?
Some Definitions of Critical Thinking. Some Prominent Features of Critical Thinking. Three Parts of Critical Thinking. What Critical Thinking Is Not. Impediments to Critical Thinking. Deeper, More Pervasive Impediments to Critical Thinking. How Deep Is Our Need for Critical Thinking? The Experience of Learning to Think Things Through. Getting Started: Clarifying with SEE-I. An Overview of the Book That Lies Ahead.

Chapter 2. The Elements of Reasoning.
The Nuts and Bolts of Critical Thinking. The Elements of Reasoning. Three Additional Elements of Reasoning. How to Analyze a Piece of Reasoning Using the Elements. Example: Thinking Through the Logic of Getting Married. Trusting the Process.

Chapter 3. What Is Critical Thinking Within a Field or Discipline?
Definitions and Parts of Critical Thinking: Applied to a Field. Thinking Biologically, Thinking Sociologically, Thinking Philosophically, Thinking Musically … The Logic of the Field or Discipline. Learning the Vocabulary of the Discipline. Fundamental and Powerful Concepts. The Point of View of the Discipline. Impediments to Thinking Critically Within a Discipline. Trusting the Discipline.

Chapter 4. Standards of Critical Thinking.
Clearness. Accuracy. Importance, Relevance. Sufficiency. Depth and Breadth. Precision. Understanding and Internalizing Critical-Thinking Standards. Additional Critical-Thinking Standards. Non-Critical-Thinking Standards. Evaluating Around the Circle of Elements. Critical Reading.

Chapter 5. Putting It All Together: Answering Critical-Thinking Questions.
The Core Process of Critical Thinking. How Do You Fit into the Picture: Becoming a Critical Thinker. Thinking Through Important Critical-Thinking Questions. Critical Writing: Using the Core Process to Write a Paper

Responses to Starred Exercises.
Critical-Thinking responses are provided for exercise questions that can be generalized to thinking critically in any discipline.
This title is also sold in the various packages listed below. Before purchasing one of these packages, speak with your professor about which one will help you be successful in your course.