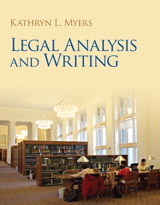 Description
For all courses in legal writing in paralegal or related programs.
This is today's most complete and practical guide to modern legal writing. Students are thoroughly introduced to each form of legal writing, including case briefs, memoranda of law, external briefs, correspondence, and pleadings. They learn how to identify key legal issues and then organize and present findings effectively in any legal document. They master both legal and non-legal citations, utilizing Bluebook, ALWD, MLA, and APA formats. They also gain deep insight into effective writing through the entire writing process, from pre-writing to proofreading, grammar to word usage. Extensive pedagogical features include opening scenarios, lists of key terms, case excerpts, media and web resources, and many forms of practice, from Quick Check quizzes to detailed assignments. To link writing to research, the text also concisely reviews the legal system, legal authorities, and each type of law.
Table of Contents
Preface
Chapter 1 Introduction to Legal Research
Chapter 2 Introduction to Legal Sources as Foundation for Writing
Chapter 3 Legal Citation Form
Chapter 4 Citing Sources: The Bluebook and ALWD
Chapter 5 Updating and Validating Research
Chapter 6 The Foundation of Writing
Chapter 7 The Case Brief
Chapter 8 Writing an Internal Memorandum of Law
Chapter 9 Writing External Briefs
Chapter 10 Correspondence
Chapter 11 Drafting Pleadings and Other Legal Document
Appendices
Appendix 1 Form documents, briefs, memoranda
Appendix 2 Non-legal citations
Appendix 3 Internet resources
Appendix 4 Glossary
Purchase Info ?
With CourseSmart eTextbooks and eResources, you save up to 60% off the price of new print textbooks, and can switch between studying online or offline to suit your needs.
Once you have purchased your eTextbooks and added them to your CourseSmart bookshelf, you can access them anytime, anywhere.
Buy Access
Legal Analysis and Writing, CourseSmart eTextbook
Format: Safari Book
$58.99 | ISBN-13: 978-0-13-310937-5