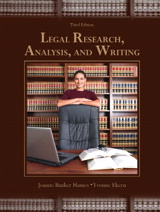 Description
For courses in legal research and writing.
By integrating the basics of legal research, legal analysis and legal writing, this book clarifies the interrelationship of these three competencies and allows students to experience the total legal research process. Its goal is to provide readers with the basic knowledge and tools needed to research and analyze a legal problem and communicate the results of that research and analysis in different types of legal memoranda. Included in the text are skill-building exercises, sample law book pages and a built-in legal dictionary. This edition features expanded coverage of legal writing, a new chapter on legal correspondence, more on computer assisted legal research, and new appendices that reinforce the integrated approach of the text.
Table of Contents
Table of Contents
1. Introduction to Legal Research, Writing, and Analysis
2. The Starting Point: Analyzing Facts and Identifying Legal Issues
3. Finding and Analyzing Case Law
4. How to Brief a Case
5. Constitutions, Statutes, and Administrative Regulations
6. Statutory and Constitutional Analysis
7. Secondary Sources
8. Digests
9. Validating Your Research: Using Shepard's, Keycite, and other citators
10. Computer Assisted Legal Research (CALR)
11. Basic Legal Writing Tools
12. Predictive Legal Writing: The Memorandum of Law
13. Persuasive Writing: Writing to the Court
14. Legal Correspondence
APPENDIX A: RESEARCH AND WRITING PROBLEMS BASED ON STATED FACT PATTERNS AND CASE FILE DOCUMENTS
APPENDIX B: BASIC CITATION REFERENCE GUIDE
APPENDIX C: RESEARCH STRATEGIES: AN OVERVIEW
APPENDIX D: DEFENDANTS' JOINT MEMORANDUM OF POINTS AND AUTHORITIES IN OPPOSITION TO PLAINTIFF'S MOTIONS FOR PRELIMINARY INJUNCTION: INITIAL RESEARCH MEMORANDA
APPENDIX E: APPELLATE BRIEF
APPENDIX F: CASE BRIEFING PRACTICE
APPENDIX G: SUPPLEMENTAL CASES
GLOSSARY
INDEX
Purchase Info ?
With CourseSmart eTextbooks and eResources, you save up to 60% off the price of new print textbooks, and can switch between studying online or offline to suit your needs.
Once you have purchased your eTextbooks and added them to your CourseSmart bookshelf, you can access them anytime, anywhere.
Buy Access
Legal Research, Analysis, and Writing, CourseSmart eTextbook, 3rd Edition
Format: Safari Book
$64.99 | ISBN-13: 978-0-13-501836-1