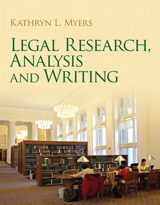 Description
For all courses in legal research and writing in paralegal or related programs.
This comprehensive guide to modern legal research and writing offers a unique balance of traditional print research techniques with newer online methods. Throughout, LEGAL RESEARCH AND WRITING helps students fully understand the issues they are researching, so they can apply analytical thinking to achieve superior results. Students discover how laws are made, how to decide which law is applicable, how to read the law, how to search modern legal databases, and how to apply the law in a client's unique situation. The text offers insights for overcoming research obstacles, and provides many examples, figures, and reference checklists. It also offers deep insight into effective writing, including extensive coverage of case briefs, memoranda of law, external briefs, correspondence, and pleadings. A concise review of the writing process addresses everything from pre-writing to grammar and word usage. Extensive pedagogical features include opening scenarios, lists of key terms, case excerpts, media and web resources, and many forms of practice, from Quick Check quizzes to detailed Research Assignments.
Table of Contents
Preface
Chapter 1 Introduction to Legal Research
Chapter 2 The Structure of Government and the Court System
Chapter 3 Understanding the Origins and Organizations of the Law
Chapter 4 Types of Law
Chapter 5 Legal Citation Form
Chapter 6 Citing Sources:¿ The Bluebook and ALWD
Chapter 7 Tools for Manual and Online Research¿
Chapter 8 Main Secondary Authorities
Chapter 9 Finding Aids, Drafting Aids, and Miscellaneous Secondary Authorities
Chapter 10 Researching Enacted Law and Related Materials
Chapter 11 Researching the Common Law (Case Laws)
Chapter 12 The Administrative Agencies and Special Laws¿
Chapter 13 Updating and Validating Research
Chapter 14 The Foundation of Writing
Chapter 15 The Case Brief
Chapter 16 Writing an Internal Memorandum of Law
Chapter 17 Writing External Briefs
Chapter 18 Correspondence¿
Chapter 19 Drafting Pleadings and Other Legal Document
¿
Appendices
Appendix 1 Form documents, briefs, memoranda
Appendix 2
Appendix 3 Internet resources
¿
Purchase Info ?
With CourseSmart eTextbooks and eResources, you save up to 60% off the price of new print textbooks, and can switch between studying online or offline to suit your needs.
Once you have purchased your eTextbooks and added them to your CourseSmart bookshelf, you can access them anytime, anywhere.
Buy Access
Legal Research, Analysis, and Writing, CourseSmart eTextbook
Format: Safari Book
$48.99 | ISBN-13: 978-0-13-702370-7