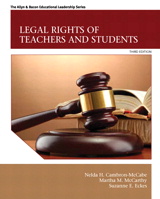 Description
With the goals of providing an awareness of rights and responsibilities, motivating educators to translate basic concepts into actual practice, and generating an interest in further study of the law, this resource gives pre- and in-service educators a concise, informative, comprehensive look at the legal issues affecting their daily activities. Included is practical help for ensuring the legality of the complex decisions educators must make every day in such areas as religion, instruction, student expression, disabilities, discipline, teacher employment, Teachers' Substantive Rights, termination, and tort liability; plus such as English Language Learners, bullying, sexual harassment, vouchers, digital copyright, and more.
Table of Contents
BRIEF TABLE OF CONTENTS
1. Legal Framework of Public Education
2. Tort Liability
3. Church/State Relations
4. Instructional Issues
5. Student Expression, Association, and Appearance
6. Student Classifications
7. Rights of Students with Disabilities
8. Student Discipline
9. Terms and Conditions of Employment
10. Teachers' Substantive Constitutional Rights
11. Discrimination in Employment
12. Termination of Employment
13. Summary of Legal Generalizations
Glossary
Selected Supreme Court Decisions
Purchase Info ?
With CourseSmart eTextbooks and eResources, you save up to 60% off the price of new print textbooks, and can switch between studying online or offline to suit your needs.
Once you have purchased your eTextbooks and added them to your CourseSmart bookshelf, you can access them anytime, anywhere.
Buy Access
Legal Rights of Teachers and Students, CourseSmart eTextbook, 3rd Edition
Format: Safari Book
$47.99 | ISBN-13: 978-0-13-261944-8