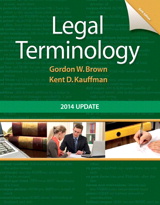 Description
For Legal Secretarial, Paralegal, Legal Assistant, Business Science, Criminal Justice, and Court Reporting programs; also appropriate for undergraduate college-level courses in Business Law, Legal Transcription, Law Office Procedures, Introduction to Paralegal, Legal Research, Legal Writing, Legal Systems, Government and the Law, Legal Environment of Business, Computers and the Law, and Legal Word Processing.
More than a legal dictionary, Legal Terminology, 6e is designed to develop students understanding of legal terms by emphasizing the how they are used in context. Featuring over 1500 legal terms with phonetic pronunciations, this book uses a text/workbook style to present narrative, definitions, study aids, and application activities all geared toward making the study of legal terms more meaningful. This edition includes new Terms in Action stories, a new chapter on legal ethics, a new chapter on constitutional law, recent bankruptcy updates, 133 new terms and updated terminology flashcards that give students the vocabulary skills that will need to succeed in a legal career.
Table of Contents
PART I: Terms used in Practice and Procedure
1. Court Systems and Jurisdiction
2. Criminal Trial Procedure
3. Civil Trial Procedure
4. Defensive Pleadings in Civil Trials
5. Methods of Discovery
6. Pretrial Hearing and Jury Trial
7. Steps in a Trial
PART II: Terms Used in Criminal Law
8. Legal Ethics
9. Constitutional Law
10. Crimes, Accomplices, and Defenses
11. Crimes Against Property
12. Crimes Against the Person and Human Habitation
13. Homicide
14. Crimes Against Morality and Drug Abuse
PART III:Terms used in law of torts
15. Torts and Tortfeasors
16. Intentional Torts
17. Negligence and Product Liability
PART IV: Terms Used in Law of Contracts
18. Formation of Contracts
19. Contract Requirements
20. Third Parties and Discharge of Contracts
PART V: Terms Used in Law of Personal Property and Agency
21. Personal Property and Bailments
22. Intellectual Property
23. Law of Agency
PART VI: Terms Used in Law of Wills and Estates
24. Wills, Testaments, and Advance Directives
25. Revocation, Lapses, and Ademption
26. Principal Clauses in a Will
27. Disinheritance and Intestacy
28. Personal Representative of the Estate
29. Settling an Estate
30. Trusts
PART VII: Terms Used in Law of Real Property
31. Estates in Real Property
32. Multiple Ownership of Real Property
33. Acquiring Title to Real Property
34. Deeds
35. Mortgages
36. Landlord and Tenant
PART VIII: Terms Used in Family Law
37. Marriage, Divorce, and Dissolution of Marriage
38. Divorce Procedure
PART IX: Terms Used in Buisness Organization and Bankruptcy
39. Business Organization
40. The Law of Bankruptcy
Glossary of Legal Terms
Index
Glossary of Latin Terms and Phrases
Purchase Info ?
With CourseSmart eTextbooks and eResources, you save up to 60% off the price of new print textbooks, and can switch between studying online or offline to suit your needs.
Once you have purchased your eTextbooks and added them to your CourseSmart bookshelf, you can access them anytime, anywhere.
Buy Access
Legal Terminology: 2014 Update, CourseSmart eTextbook, 6th Edition
Format: Safari Book
$70.99 | ISBN-13: 978-0-13-376701-8