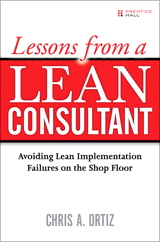 Description
Making Lean Work: "In-the-Trenches" Help from a World-Class Expert
Lean manufacturing can improve productivity and quality, shorten lead times, reduce costs, and improve competitiveness. However, succeeding with lean is not easy. Chris A. Ortiz, one of the country's most respected lean implementers, shows you exactly how to overcome obstacles, drive value from lean, and sustain success for the long term.
Ortiz draws on his experience leading many successful lean transitions and more than 150 kaizen events. He shows you how to prepare for a lean shop floor environment, implement best practice procedures and standards, build executive support, lead kaizen within the factory, and deal with the ups and downs you will inevitably encounter.
Forget theory: This is a step-by-step, what-to-do guide for professionals in the trenches—plant and engineering managers, lean managers and directors, Six Sigma practitioners, and working engineers.
Topics covered include
Seven reasons lean can fail—and how to overcome them
Establishing successful kaizen programs: champions, events, teams, goals, tracking, and scheduling
Avoiding early stumbling blocks in data collection, waste removal, and process design
Getting your operators and supervisors to "buy into" lean
Training managers, engineers, and new employees
Promoting flexibility and cross-training
Using lean to drive growth, not just save money
Lean leadership made simple: twelve practical techniques, five simple rules—and ten things not to do
Sample audit, tracking, and time study forms
Table of Contents
Preface xv
Acknowledgments xvii
About the Author xix
Introduction xxi

Chapter 1: Case Study: How Lean Failed 1
Gung Ho! 2
Lean Training 2
The First Kaizen Event 5
Struggling with Change 9
Raising the Bar: 5S Implementation 11
Improving Work Instructions 12
Lack of Accountability 13
The Second Kaizen Event 14
Giving Up on Lean 17
End of the Journey 19

Chapter 2: The Change Commitment 21
The Three Main Drivers of Product Success 22
The Big Picture 26
The Strategic Purpose 28
Creating Your Strategic Purpose 34
Chapter Wrap-Up 41

Chapter 3: The Lean Infrastructure: Kaizen 43
Creating the Company Kaizen Program 44
Kaizen Champion 44
Kaizen Events 46
Kaizen Steering Committee 53
Kaizen Event Tracking and Scheduling 57
Kaizen Event Communication 59
Monthly Kaizen Meeting 63
Getting Started 65
Your First Kaizen Event 67
Chapter Wrap-Up 70

Chapter 4: Early Stumbling Blocks 71
5S and the Visual Workplace 72
Time and Motion Studies 79
Waste Removal 83
Quality at the Source 87
Workstation Design 89
Chapter Wrap-Up 96

Chapter 5: Operator and Supervisor Involvement 97
Standard Work 98
How to Get Them Involved 108
Lean Manufacturing Training 111
Chapter Wrap-Up 112

Chapter 6: Lean Training Programs 113
Training Programs for New Employees 113
Cross-Training Program 121
Training Managers and Engineers 127
Chapter Wrap-Up 129

Chapter 7: Lean Manufacturing as a Growth Creator 131
Lean Goals 132
Pay-for-Skill Program 133
Number of Certifications 134
Years of Experience 134
Attendance 134
Kaizen and Kaizen Event Participation 135
Quality Errors 137
Providing Incentives for Good Ideas 139
Chapter Wrap-Up 140

Chapter 8: Lean Leadership Made Simple 141
Poor Leadership Traits 143
The Master Delegator 143
A More Congenial Leadership 145
Effective Lean Leadership 149
Chapter Wrap-Up 155

Appendix A: Quick Reference 157
The Seven Deadly Wastes 157
Key Elements of a Company Kaizen Program 158

Appendix B: Supplemental Material 159
5S Audit Form 159
5S Tracking Sheet 159
Time Study Sheet 159

Glossary 163
Index 167


Purchase Info
ISBN-10: 0-13-279929-4
ISBN-13: 978-0-13-279929-4
Format: eBook (Watermarked)?
This eBook includes the following formats, accessible from your Account page after purchase:
EPUBThe open industry format known for its reflowable content and usability on supported mobile devices.
MOBIThe eBook format compatible with the Amazon Kindle and Amazon Kindle applications.
PDFThe popular standard, used most often with the free Adobe® Reader® software.
This eBook requires no passwords or activation to read. We customize your eBook by discreetly watermarking it with your name, making it uniquely yours.
Includes EPUB, MOBI, and PDF
$31.99
Add to Cart