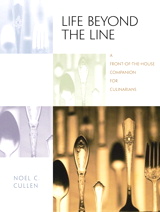 Table of Contents
I. THE IMPERATIVE OF CUSTOMER SERVICE.
1. Chefs and the Future.
2. The Legacy of Service.
3. Methods of Table Service.
4. Tableside Service and Buffets.
5. Guest Relations and "People" Skill Techniques.
6. Suggestive Selling and Merchandising.
7. Legal Issues and Dining Room Service.
II. FUNDAMENTALS OF WINE: PRODUCTION.
8. Wine-Making and the Major Varietals.
9. Major Wine-Producing Countries.
10. Wine and the United States.
11. Tasting, Evaluating, Appreciating, and Cooking with Wine.
12. Wines Styles, Highly Rated Wines of the World and Quality Controls.
13. The Service of Wine and the Wine List.
III. BAR SERVICE AND MIXOLOGY.
14. Liqueurs and Aperitifs.
15. Beers, Ales and Stout.
16. Distilled Liquors.
17. Mixology.
18. Intervention Procedures for Alcohol Service.
19. Licensing and Legal Issues Surrounding Alcohol.
20. Bar Theft and Special Problems.
21. Alcohol and Its Effect on the Body.
IV. TOWARD TEAMWORK.
22. Issues of Sanitation.
23. Safety.
24. Quality Management, Diversity, and Respect.
25. The Dynamics of Leadership.
26. Teamwork: Putting It All Together.
About Wines.
Glossary of Terms.
Appendix 1: International Coffees and Tableside Preparations.
Appendix 2: Cocktail Recipes.
Appendix 3: Napkin Folds.
Bibliography.
Index.